Today is
Friday, June 2, 2023
This is the Saint of the Day list of Saints and Blesseds whose feast day falls on November 12 every year.
👉 Saint Josaphat, Bishop and Martyr
Saint Lebuin of Deventer
Saint Astricus of Esztergom
Saint Didacus
Saint Nilus the Elder
Five Polish Brothers
Saint Cunibert of Cologne
Saint Livinus
Saint Arsatius
Blessed John Cini della Pace
Saint Margarito Flores-García
Blessed José Medes Ferrís
Saint Machar of Aberdeen
St. Machar of Aberdeen was born Irish. He was also known as Apostle to the Picts or Macarius, Macharius or Mochumna. He was baptized by Saint Colman.
He was a spiritual student of St. Columba at Iona Abbey. He was a bishop of Aberdeen, Scotland and a missionary to the Picts with twelve companions.
He died in 540 AD on the island of Maleo, Scotland due to natural causes.
Saint Cummian Fada
St. Cummian Fada was also known as Cumméne Fota. He was a Columban monk in Clonfert, Ireland. He founded a monastery at the area which became known as Kilcummin in his honour, and served as its abbot.
He supported the Roman system of determining the date of Easter, a matter of great dispute at the time. He died in 662 due to natural causes and his relics enshrined in 1162 AD.
Saint Renatus of Angers
St. Renatus of Angers was also known as Renato or Rene. He was a bishop of Angers in France. He died in 422 AD.
Saint Paternus of Sens
St. Paternus of Senswas born in Brittany (modern France). He was a monk at Cessier in France and at Saint-Pierre-le-Vif near Sens in France. He was murdered and died as a martyr in 726 AD.
Saint Namphasius
St. Namphasius was also known as Nauphary, Namphisius or Namphrase. After a career as a soldier, he retired from the world to become a hermit near Marcillac, France. He died in 800 AD.
Saint Hesychius of Vienne
St Hesychius of Vienne was an Imperial Roman quaestor. He was a bishop of Vienne in modern-day France. He participated in councils in Orleans and Paris. He died in 552 AD.
Saint Ymar of Reculver
St. Ymar of Reculver was a monk at Reculver Abbey, Ken in England. He was martyred in 830 AD by invading Danes.
Saint Cadwallader
St. Cadwallader was also known as Cadwalla, Ceadwalla or Cadwallador. He was a pious king in Wales. He died in 664 AD.
Saint Aurelius
St. Aurelius was a bishop. He wrote in opposition to the Montanist heresy. He died as a Martyr
Saint Publius
St. Publius was a bishop. He wrote in opposition to the Montanist heresy. He died as a Martyr.
Saint Rufus of Avignon
St. Rufus of Avignon was the first bishop of Avignon, France. He died in 200 AD.
Saint Evodius of Le Puy
St. Evodius of Le Puy was a bishop of Le Puy in France. He died in 560 AD.
Catholic Saint Feast Days in November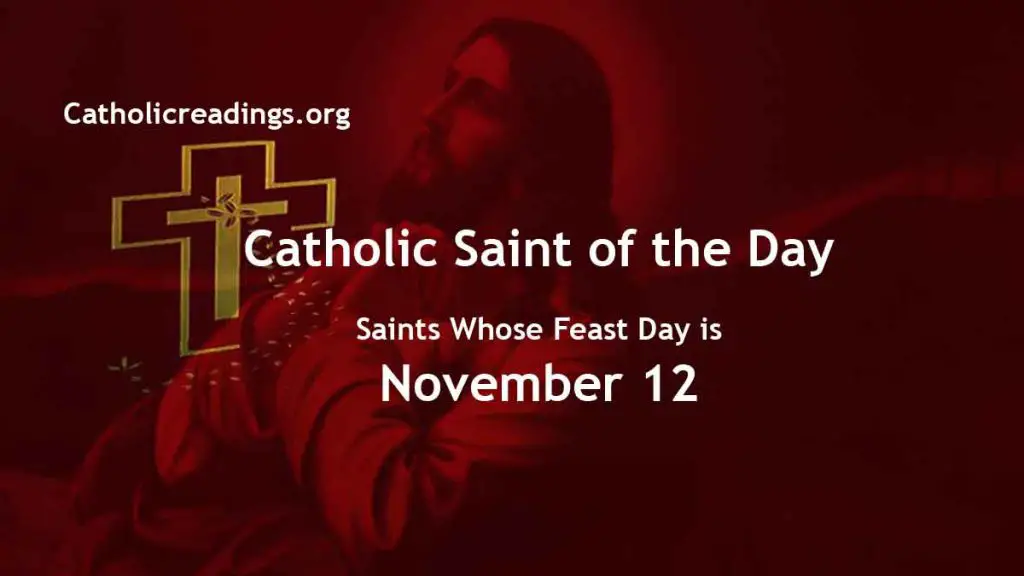 Powered By SEO Experts
Follow @ReadingCatholic