Today is
Friday, March 31, 2023
This is the Saint of the Day list of Saints and Blesseds whose feast day falls on November 4 every year.
👉 Saint Charles Borromeo, Bishop
Blessed Frances d'Amboise
Blessed Teresa Manganiello
Saint John Zedazneli
Saint Philologus
Saint Patrobas
Saint Emeric of Hungary
Saint Birstan
Blessed Helen Enselmini
Saint Agricola of Bologna
Blessed Joan Antoni Burró Mas
Saint Perpète
Saint Gregory of Burtscheid
Saint Vitalis of Bologna
Saint Clarus the Hermit
Saint Pierius
Saint Pierius was also known as Prierio or The Younger Origen. As a priest he wrote a number of treatises on philosophy and theology. He was the director of the Catechetical School of Alexandria in Egypt. As a noted preacher, teacher and scholar he was praised by Eusebius of Caesarea and Saint Jerome. He died in 309-310 in Rome, Italy due to natural causes.
Saint Amandus of Rodez
St. Amandus was also known as Amand, Amantius or Amatius. He was a bishop at Rodez in France, an area that had begun to fall away from Christianity. His evangelism brought his parishioners back to the faith. He died in 440 AD.
Saint Modesta of Trier
St. Modesta of Trier was also known as Modesta of Ohren. He was the niece to St. Modoald of Trier who appointed him as the first abbess of the convent of Oehren, Trier in Germany. In addition, he was a benedictine. He died in 680 AD due to natural causes.
Saint Clether
Saint Clether was also known as Cleer, Clanis, Scledog or Clydog and was born in the 6th century in Wales. He was a Hermit on the banks of the river Never, the Inny valley in North Cornwall in England, an area named in his honour.
Saint Nicander of Lycia
St. Nicander of Lycia was a bishop who died as a Martyr in Lycia, Asia Minor.
Saint Hermas of Myra
St. Hermas of Myra was a priest then later died in Lycia, Asia Minor as a Martyr.
Blessed Henry of Zweifalten

Blessed Henry of Zweifalten was a benedictine monk at Zwiefalten in Swabia (modern Germany). He was a Prior of Ochsenhausen, Swabia. Blessed Henry of Zweifaltend died in 1250AD.
Saint Gerard de Bazonches
St. Gerard de Bazonches was a Benedictine monk at Saint Aubin Monastery in Angers, France. He was a priest and died in 1123AD.
Saint Amandus of Avignon
St. Amandus of Avignon was also known as Amand, Amantius or Amatius. He was a bishop at Avignon in France.
Catholic Saint Feast Days in November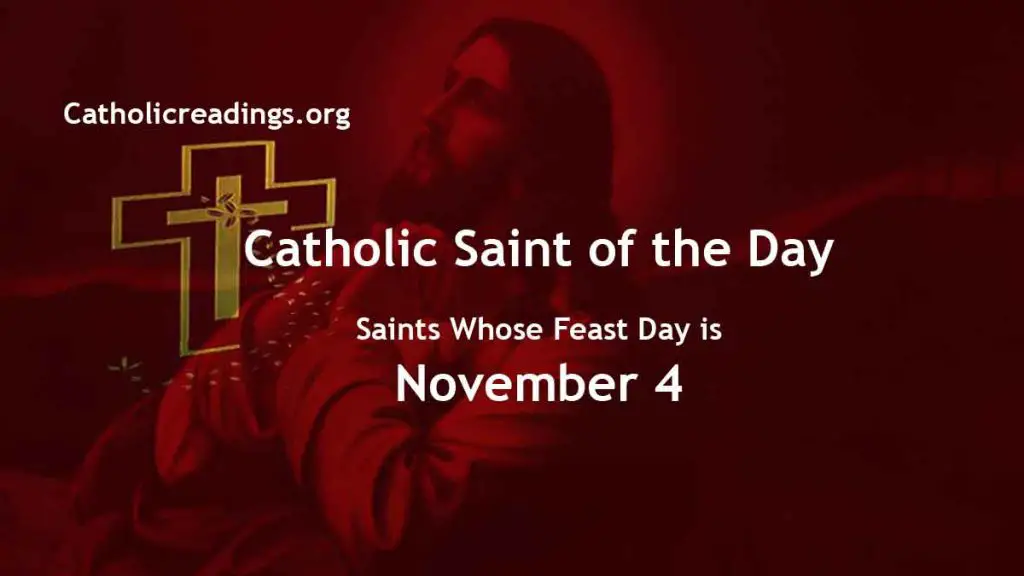 Powered By SEO Experts
Follow @ReadingCatholic