Today is
Sunday, September 24, 2023
This is the Saint of the Day list of Saints and Blesseds whose feast day is October 10 2023.
👉 Saint Cerbonius of Populonia
Blessed Angela Truszkowska
Saint Paulinus of York
Saint John of Bridlington
Blessed Daniele di Calabria
Saint Maharsapor the Persian
Saint Eulampia and Saint Eulampius
Saint Florentius the Martyr
Blessed Leon Wetmanski
Saint Cassius
Saint Victor of Xanten
Blessed Edward Detkens
Saint Gereon
Blesssed Pedro de Alcantara de Forton de Cascajares
Saint Malo the Martyr
Saint Paulinus of Capua
Blessed Demestrius of Albania
Saint Aldericus of Sens
Saint Pinytus of Crete
St Pinytus of Crete was also known as Pinytus of Cnossos, Pinytus of Knossos, or Pinito.
He was born in Greece and became the Bishop of Crete. His peers considered him one of the greatest ecclesiastical writers of their time. In 180 AD, he died of natural causes.
Saint Clarus of Nantes
St Clarus of Nantes was also known as Chiara. In the third century, he was a missionary to Armorica now in modern-day Brittany, France. He, later on, became the Bishop of Nantes, France.
Blessed Pontius de Barellis
Blessed Pontius de Barellis was born in Lyon, France. He was a Mercedarian friar, a Theologian, and a teacher of theology.
Blessed Hugh of Macon
Blessed Hugh of Macon was a Cistercian Benedictine monk. In 1114 AD, he became an Abbot at Pontigny. In 1137 AD, he became the Bishop of Auxerre, France, becoming the first Cistercian monk to become a bishop. He died in 1151 AD.
Saint Teodechilde
St Teodechilde was also known as Telchilde. She was a nun and later, in 630 AD, an Abbess of Jouarre Abbey, Meaux, France. In the abbey, she was an honoured spiritual teacher of her sisters.
Saint Gundisalvus
St Gundisalvus was a Cistercian Benedictine monk. In 1135 AD, he became the first prior of the Cistercian abbey at Las Junias, Portugal. He died in 1163 AD.
Saint Cerbonius of Verona
St Cerbonius of Verona was also known as Cerebonius. He was the Bishop of Verona, Italy. He died in 400 AD.
Saint Fulk of Fontenelle
St Fulk of Fontenelle was a Benedictine monk and later an Abbot at Fontenelle in France. In 845 AD, he died of natural causes.
Saint Patrician
St Patrician was the bishop in Scotland in the fifth century. He was driven into exile by pagan Scots where he spent his latter years on the Isle of Man as a hermit.
Saint Tanca
St Tanca was a young girl who was martyred in 637 AD near Troyes, France for defending her virginity.
Martyrs of Ceuta
The Martyrs of Ceuta were a group of seven Friars Minor who tried to bring the faith to Muslims in the area of Ceuta, Spain, which borders on modern Morocco.
They were initially treated as madmen, this is because they were street-preaching in Latin and Italian.
After three weeks they were ordered to convert to Islam but they adamantly refused and as a consequence, they were first abused in the streets, then arrested, tortured, executed, and beheaded and died as martyrs in October 1227 in Mauritania Tingitana, Almohad Empire now in modern Ceuta, Spain.
The local Christians secretly took the bodies away and gave them a proper burial in Ceuta.
On January 22 1516, they were Beatified by Pope Leo X.
Angelo
Daniele di Calabria
Donnolo
Hugolinus
Leone
Nicola
Samuele
Other Saints of the Day for October 10 2023
Galeotto Roberto Malatesta
Maria dello Sposalizio
Catholic Saint Feast Days in October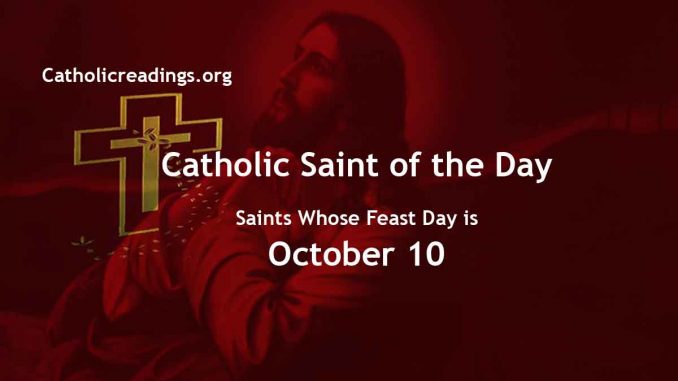 Powered By SEO Experts
Follow @ReadingCatholic