Today is
Sunday, October 1, 2023
This is the Saint of the Day list of Saints and Blesseds whose feast day is October 15 2023.
👉 Saint Teresa of Jesus (Saint Teresa of Avila), Virgin and Doctor
Saint Barsen of Edessa
Saint Aurelia of Strasbourg
Saint Euthymius the Younger
Saint Severus of Trier
Saint Odilo
St Odilo was a Benedictine monk at Gorze, Lorraine, France. In 945 AD, he became the Abbot of Stavelot-Malmedy, Belgium.
He made his monastery a centre of learning in the region and an example of discipline. He died of natural causes in 954 AD.
Saint Willa of Nonnberg
St Willa was a nun at Nonnberg Abbey in Austria. She retired from community life to live as an anchoress in her later life. She died in 1050 AD.
Saint Callistus of Huesca
St Callistus of Huesca was born in Huesca, Spain. He was a friend of Saint Mercutialis. He was martyred in 1003 AD in France by Saracens.
Saint Leonard of Vandoeuvre
St Leonard was a hermit who founded the Vandoeuvre Abbey in France and served as its first abbot. He died in 570 AD.
Saint Sabinus of Catania
St Sabinus of Catania was the Bishop of Catania, Sicily. He resigned to become a hermit in later years. He died in 760 AD.
Saint Fortunatus of Rome
St Fortunatus of Rome died as a martyr in 537 AD in Rome, Italy.
Saint Cannatus of Marseilles
St Cannatus of Marseilles was the bishop of Marseilles, France in the fifth century.
Martyrs of Cologne
The Martyrs of Cologne were a group of 360 Christian soldiers martyred together in 303 AD outside the city walls of Cologne, Germany during the persecutions of Diocletian and Maximian.
Martyrs of the Spanish Civil War
These are the names of some of the thousands of people who were murdered from 1934 to 1939, during the anti-Catholic persecutions of the Spanish Civil War. 
Their names are;
Blessed Pere Verdaguer Saurina
Blessed Narcis Basté y Basté
Blessed Josefa Martínez Pérez
Blessed Cipriano Alguacil Torredenaida
Other Saints of the Day for October 15 2023
William de Eril
Sofia
Sancho of Soria
Gonsalvo of Lagos
Fortunata of Campania
Filippa de Chantemilan
Ferdinand Sorita
Eusebia of Vercelli
Elizabeth of Hoven
Catholic Saint Feast Days in October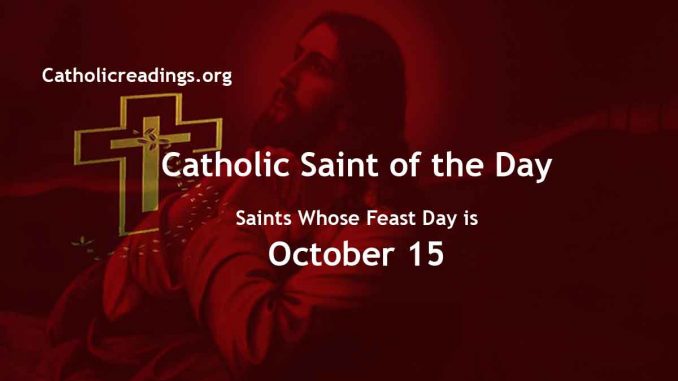 Powered By SEO Experts
Follow @ReadingCatholic