This is the Saint of the Day list of Saints and Blesseds whose feast day falls on October 31 every year.
Saint Alonso Rodriguez
Saint Foillan of Fosses
Blessed Thomas Bellacci
Saint Wolfgang of Ratisbon
Blessed Irene Stefani
Saint María Isabel Salvat Romero
Saint Quentin
Blessed Dominic Collins
Blessed Christopher of Romagna
Saint Ampliatus
Saint Narcissus
Saint Urban
Blessed Leon Nowakowski
Blessed Miguel Tiu Imul
Blessed Maria de Requesens
Saint Epimachus of Melusio
Blessed Pilar Isabel Sénchez Suérez
Saint Lucilla of Rome
Blessed Modesta Moro Briz
Saint Apelles of Eraclea Sintica
Saint Stachys of Constantinople
Saint Antoninus of Milan
Saint Erth of Cornwall
St Erth of Cornwall was also known as Herygh or Urith. He was irish born and the brother of Saint Uny and Saint Ia. He was an evangelist in Cornwall where the village of Saint Erth is named in his honour. He died in the 6th century.
Saint Arnulf of Novalesa
St Arnulf of Novalesa was a Benedictine monk at Novalesa Abbey, Piedmont, Italy. He was martyred in 840 AD by Saracens.
Saint Notburga of Cologne
St Notburga of Cologne was a Benedictine nun at the convent of Saint Mary, Cologne, Germany. She died in 714 AD.
Saint Begu of Hackness
St Begu of Hackness was a nun at Hackness, Yorkshire, England. She died
in 660 AD.
Blessed Miguel Tiu Imul
Blessed Miguel Tiu Imul was born on September 5 1941 in La Montaña, Parraxtut, Sacapulas, Quiché, Guatemala.
He was a married layman of the diocese of Quiché, Guatemala.
He was the director of Catholic Action and served as a catechist. He was murdered on October 31 1991, and died as a martyr in Parraxtut, Sacapulas, Quiché, Guatemala by Guatemalan government troops.
On January 23 2020, he was venerated by Pope Francis through a decree of martyrdom.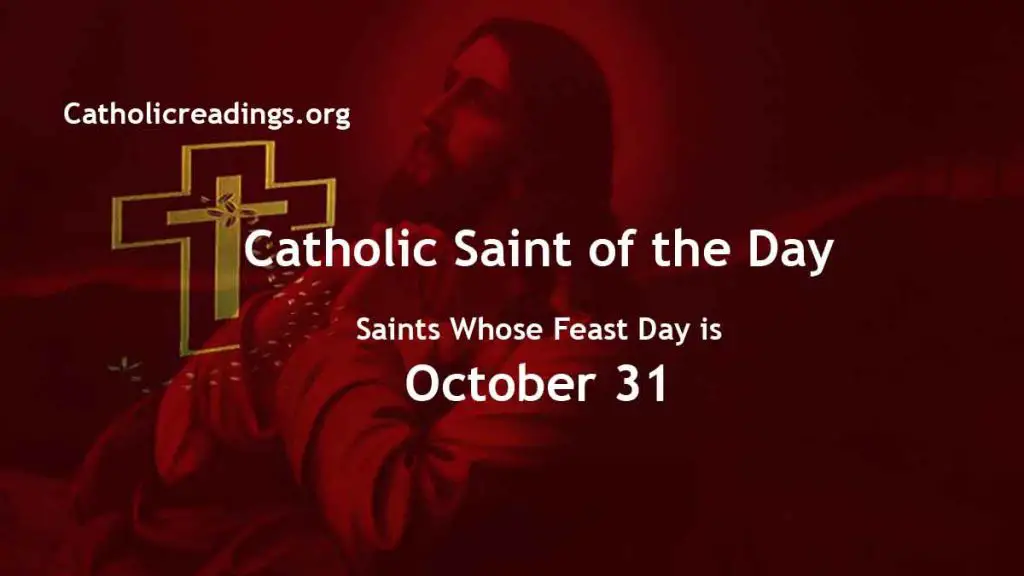 Powered By SEO Experts
Follow @ReadingCatholic