Today is
Thursday, June 8, 2023
This is the Saint of the Day list of Saints and Blesseds whose feast day falls on October 6 every year.
👉 Saint Bruno of Cologne, Priest
Saint Mary Frances of the Five Wounds of Jesus
Saint Faith
Blessed Plàcid Fàbrega Julià
Blessed Adalbero of Lambach
Blessed Isidore of Saint Joseph
Blessed Artaldo of Belley
Saint Francis Trung Von Tran
Blessed François Hunot
Saint Pardulf
Blessed Josep Lluis Raga Nadal
Saint Alberta of Agen
Saint Magnus of Orderzo
Saint Sagar of Laodicea
St Sagar of Laodicea was also known as Sagara, Sagaris or Sagaro. It is said that he was a spiritual student of Saint Paul the Apostle, but the dates quash this narrative. He was the Bishop of Laodicea, Phrygia now in modern-day Turkey. In 175 AD, he was martyred during the persecutions of Marcus Aurelius.
Blessed Juan de Prunera
Blessed Juan de Prunera was a Mercedarian friar. He ransomed Christians who were enslaved by Muslims. He died in 1448 AD of natural causes at the convent of Santa Colomba in Queralt, Catalonia, Spain.
Saint Renato of Sorrento
St Renato was a hermit and an early bishop of Sorrento, Italy. It is in his hermitage the first cathedral of Sorrento was formed.
Saint Epiphania
St Epiphania was born as a princess. She was the daughter of King Ratchis of the Lombards. She became a nun at the convent of Santa Maria della Caccia in Pavia, Italy. She died in 800 AD of natural causes.
Saint Aurea of Boves
St Aurea of Boves was born in Amiens, France. She became a nun in Boves, Italy and an abbess of a large convent in Rouen, France. She died in the 8th century.
Saint Ceollach
St Ceollach was an Irish Bishop of the Mercians. He was a monk at Iona, Scotland. He spent his final years in Ireland where he died in the 7th century.
Saint Erotis
St Erotis was also known as Eroteis. He was burned at the stake and died as a martyr in the 4th century in Greece.
Saint Romanus of Auxerre
St Romanus of Auxerre was the Bishop of Auxerre, France. He died in 564 AD.
Saint John Xenos
St John Xenos is the one who introduced the monastic life to the island for Crete.
Martyrs of Capua
The Martyrs of Capua were a group of martyrs who either their relics were first enshrined in Capua, Italy, or they were killed there.
Their names are;
Aemilius
Castus
Marcellus
Saturninus
Martyrs of Kyoto
The Martyrs of Kyoto are the fifty-two Japanese laypeople, who were martyred together on October 6 1619 in Kyoto, Japan during one of the government-sponsored persecutions of Christians. Some of the people were single, some married, some parents and some children. On November 24 2008, they were beatified by Pope Benedict XVI.
Their names are;
Blessed Ursula Sakurai
Blessed Thomas Toemon
Blessed Thomas Koshima Shinshiro
Blessed Thomas Kian
Blessed Thomas Kajiya Yoemon
Blessed Thomas Ikegami
Blessed Thomas Hashimoto
Blessed Thecla Hashimoto
Blessed Sixtus of Kyoto
Blessed Rufina of Kyoto
Blessed Regina Kyusaku
Blessed Petrus Hashimoto
Blessed Monica of Kyoto
Blessed Monica of Kyoto
Blessed Monica of Kyoto
Blessed Mencia of Kyoto
Blessed Martha of Kyoto
Blessed Martha of Kyoto
Blessed Martha Kyusuke
Blessed Maria of Kyoto
Blessed Maria of Kyoto
Blessed Maria of Kyoto
Blessed Maria of Kyoto
Blessed Maria Koshima Shinshiro
Blessed Maria Chujo
Blessed Mancius Kyujiro
Blessed Magdalena of Kyoto
Blessed Magdalena Kyusaku
Blessed Ludovicus Matagoro
Blessed Ludovica Hashimoto
Blessed Lucia Toemon
Blessed Lucia Soroku
Blessed Lucia of Kyoto
Blessed Linus Rihyoe
Blessed Leo Kyusuke
Blessed Ioannes Sakurai
Blessed Ioannes Kyusaku
Blessed Ioannes Hashimoto Tahyoe
Blessed Ioachim Ogawa
Blessed Hieronimus Soroku
Blessed Gabriel of Kyoto
Blessed Franciscus Shizaburo
Blessed Franciscus of Kyoto
Blessed Franciscus Hashimoto
Blessed Emmanuel Kosaburo
Blessed Didacus Tsuzu
Blessed Cosmas of Kyoto
Blessed Catharina Hashimoto
Blessed Benedictus of Kyoto
Blessed Antonius Domi
Blessed Anna Kajiya
Blessed Agatha of Kyoto
Other Saints Celebrated Today
Catholic Saint Feast Days in October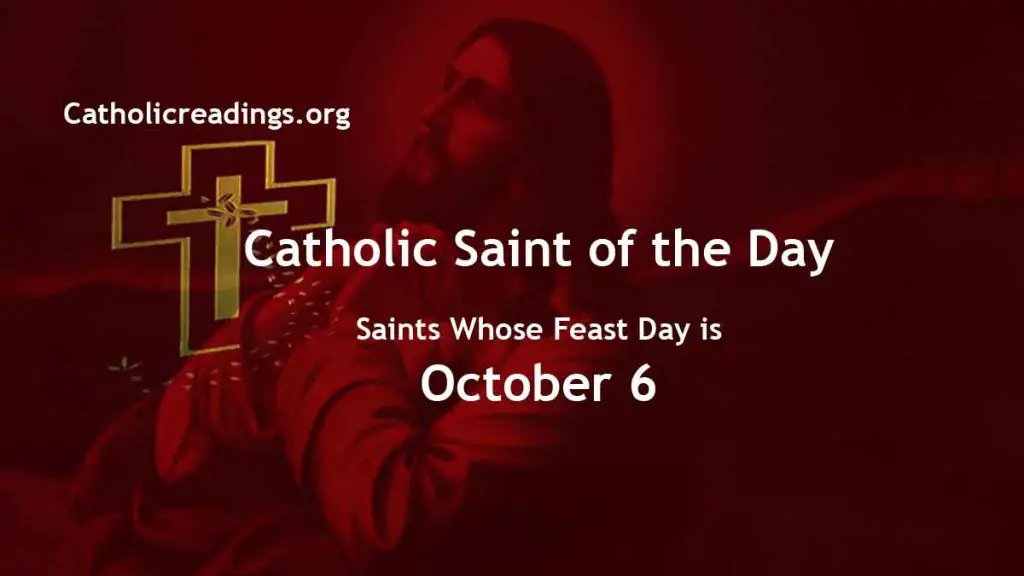 Powered By SEO Experts
Follow @ReadingCatholic