Today is
Friday, September 29, 2023
This is the Saint of the Day list of Saints and Blesseds whose feast day is October 9 2023.
👉 Saint Denis, Bishop and Companions, Martyrs
Saint Louis Bertrand
Saint Donnino of Città di Castello
Abraham the Patriarch
Saint Domninus
Blessed Gunther
Saint Deusdedit of Montecassino
Saint Andronicus of Antioch
Saint Gislenus
Blessed Bernard of Rodez
Saint Athanasia of Antioch
St Athanasia of Antioch was a ninth-century laywoman in Antioch, Syria. She was married to St Andronicus of Antioch and became a mother of two.
After the death of their children, Athanasia and Andronicus agreed to live separately as hermits in upper Egypt. They both made multiple pilgrimages to Jerusalem.
Saint Eleutherius and Saint Rusticus
St Eleutherius and St Rusticus were a priest and a deacon who were tortured, beheaded, and died as martyrs together with Saint Denis at Montmartre (Mount of martyrs) in 258 AD.
Saint Demetrius of Alexandria
St Demetrius was a Patriarch of Alexandria, Egypt from 188 AD and served for 43 years.
He Supported the catechetical school of Alexandria and appointed Origen as director of the school in 203 AD. He would later exile Origen for being ordained without permission.
In 231 AD, he died of natural causes.
Saint Sabinus of the Lavedan
St Sabinus of the Lavedan was also known as Apostle of the Lavedan or Savin of the Lavedan. He was born in Barcelona, Spain.
He was educated in Poitiers, France, and became a Benedictine monk at Liguge. He also became an Evangelist to the Lavedan in the Pyrenees in France. Finally, he became a hermit and died in 820 AD.
Blessed Aaron of Cracow
Blessed Aaron of Cracow was a monk at Cluny Abbey, France. He was a spiritual student of Saint Odilo of Cluny.
He was the first abbot of the Benedictine abbey at Tyniec, Poland, and also the first archbishop of Cracow, Poland after he was ordained in 1046 AD.
On May 15 1059, he died of natural causes.
Saint Dorotheus of Alexandria
St Dorotheus of Alexandria was a confessor of the faith. For remaining loyal to orthodox Christianity, he was constantly abused by Arian heretics. In 373 AD, he died of natural causes in Alexander, Egypt.
Saint Goswin
St Goswin was born in Douai, France. He studied in Paris, France, and taught theology in Douai, France. He became a Benedictine monk at Anchin Abbey in 1113 AD and later the Abbot at Anchin 1130 AD.
He died of natural causes in 1165 AD.
Saint Alfanus of Salerno
Saint Alfanus of Salerno was a Benedictine monk at Monte Cassino Abbey. He became the Archbishop of Salerno, Italy, and Assisted Pope Saint Gregory VII on his deathbed. He died in 1085 AD. 
Saint Geminus
St Geminus was a monk at Sanpaterniano de Fano, Narni, Umbria, Italy. He is claimed by both the Basilians and Benedictines and is the patron saint of San Gemini, Italy. He died in 815 AD.
Saint Valerius
St Valerius was also known as Bellère or Beriher. He was the spiritual student of Saint Gislenus in Belgium and France. He died in 680 AD.
Saint Lambert
St Lambert was a spiritual student of St Gislenus in Belgium and France. He died in 680 AD.
Martyrs of Laodicea
Martyrs of Laodicea were the three Christians who were martyred together in Laodicea, Syria
Their names are;
Didymus
Diodorus
Diomedes
Nine Martyrs of Astoria
The Nine Martyrs of Astoria are also known as Martyrs of Turon. They were a group of Brothers of the Christian Schools and a Passionist priest who were martyred on October 9 1934 in Turón, Spain during the persecutions in the Spanish Civil War.
On November 21 1999, they were canonized by Pope John Paul II.
Their names are;
Aniceto Adolfo
Augusto Andrés
Benito de Jesús
Benjamín Julián
Cirilo Bertrán
Inocencio de la Immaculada
Julián Alfredo
Marciano José
Victoriano Pío
Other Saints of the Day for October 9 2023
Monks of Lecceto
Emmanuela Teresa of Bavaria
Hector Antonius Valdivielso Sáez
Oda of Parey
Robert of Mariënweerd
Catholic Saint Feast Days in October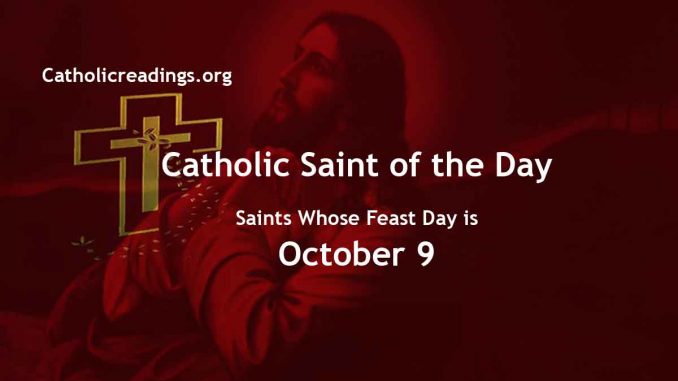 Related Links
Powered By SEO Experts
Follow @ReadingCatholic