Today is
Wednesday, March 22, 2023
This is the Saint of the Day list of Saints and Blesseds whose feast day falls on September 18 every year.
Saint Joseph of Cupertino
Saint Richardis of Andlou
Blessed Salvador Chuliá Ferrandis
Saint Ferreolus the Tribune
Saint Ðaminh Trach Ðoài
Blessed Daudi Okelo
Blessed Jildo Irwa
Saint Ariadne
Saint Hygbald
Saint Eumenius Thaumaturgus
St Eumenius Thaumaturgus was also known as Eumenius the Wonder Worker or Eumenes.
She was the bishop of Gortyna, Crete in the late 3rd-century. He was renown as a miracle worker and for his charity. He died in exile and his relics were transferred to Crete in the 7th century.
Saint Eustorgius of Milan
St Eustorgius was born in Greece and in 315 AD, was the Bishop of Milan, Italy. He was renown for his opposition to Arianism. He died in 331 AD.
Saint Ferreolus of Limoges
St Ferreolus of Limoges was the Bishop of Limoges, France in 579 AD. He was much admired by Saint Gregory of Tours. In 591 AD he died of natural causes.
Saint Irene
St Irene was beheaded in 200 AD and died as a martyr in Egypt.
Saint Senary of Avranches
St Senary of Avranches was also known as Sinerio or Senario. He was the Bishop in Avranches, Brittany, France.
Saint Oceano of Nicomedia
St Oceano of Nicomedia died as a martyr in Nicomedia, Bithynia, Turkey.
Martyrs of the Spanish Civil War
These are the names of some of the thousands of people were murdered from 1934 to 1939, during the anti-Catholic persecutions of the Spanish Civil War.
Their names are;
Blessed Vicente Jaunzarás Gómez
Blessed Vicente Gay Zarzo
Blessed Salvador Fernández Pérez
Blessed Justo Lerma Martínez
Blessed José María Llópez Mora
Blessed José García Mas
Blessed Jesus Hita Miranda
Blessed Jacinto Hoyuelos Gonzalo
Blessed Fernando García Sendra
Blessed Carlos Eraña Guruceta
Other Saints Celebrated Today
Sophia of Egypt
Reginfrid of Rennes
Michael of Male
Eustachius of Mondsee
Elias of Mantova
Desiderius of Rennes
Constantius the Theban
Bertilia of Hainault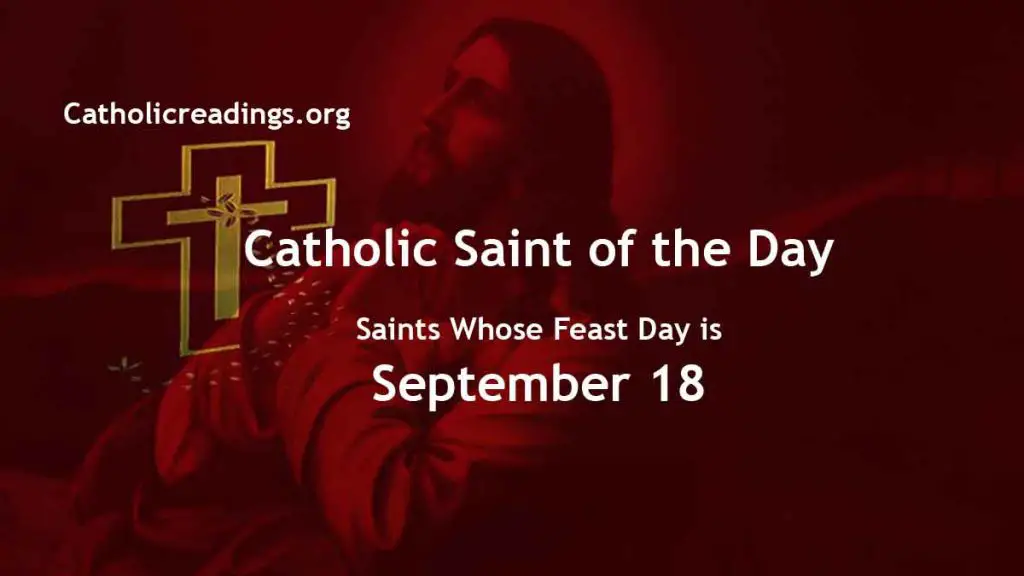 Powered By SEO Experts
Follow @ReadingCatholic