Today is
Sunday, September 24, 2023
This is the Saint of the Day list of Saints and Blesseds whose feast day is September 21 2023.
Saint Cadoc of Llancarvan
Saint François Jaccard
Saint Jacques Honoré Chastán
Blessed Mark Scalabrini
Saint Pierre Philibert Maubant
Saint Maura of Troyes
Jonah the Prophet
Saint Castor of Apt
Saint Tôma Tran Van Thien
Saint Alexander of the Via Claudia
Saint Gerulph
Saint Eusebius of Phoenicia
Saint Johannes Ri
Saint Pamphilus of Rome
St Pamphilus of Rome died as a martyr on the Via Salaria Antica, Rome, Italy.
Saint Iphigenia
St Iphigenia was born in Ethiopia in the 1st century AD. St Matthew the Apostle converted and brought him to the Christian faith.
Saint Isaac of Cyprus
St Isaac of Cyprus was also known as Isacius. He was a Bishop in Cyprus who died as a martyr.
Saint Meletius of Cyprus
Saint Meletius of Cyprus was a Bishop in Cyprus who died as a martyr.
Martyrs of Gaza
The Martyrs of Gaza were three brothers who, in 362 AD, were seized, dragged through the street, beaten and burned to death on a village garbage heap in Gaza, Palestine by a pagan mob. The mob was celebrating the renunciation of Christianity by Julian the Apostate.
Their names are;
Martyrs of the Spanish Civil War
These are the names of some of the thousands of people who were murdered from 1934 to 1939, during the anti-Catholic persecutions of the Spanish Civil War. 
Their names are;
Blessed Vicente Pelufo Orts
Blessed Vicente Galbis Gironés
Blessed Nicolás de Mier Francisco
Blessed Manuel Torró García
Blessed Josep Vila Barri
Blessed José María Azurmendi Mugarza
Blessed Jacinto Martínez Ayuela
Blessed Diego Hompanera París
Other Saints of the Day for September 21 2023
Tristan of Salazar
Quadrato of Magnesia
Landelino of Ettenheim
Caterina Aliprandi of Asti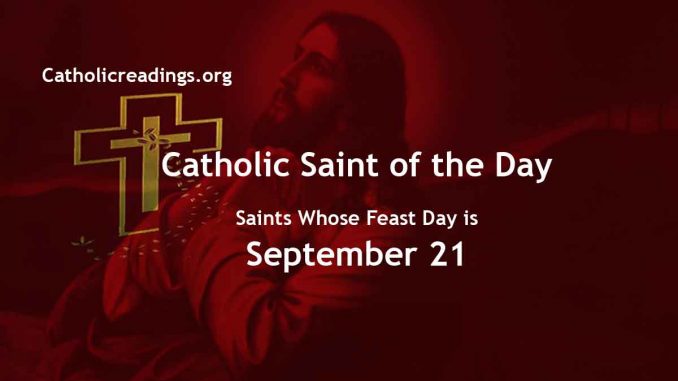 Related Links
Powered By SEO Experts
Follow @ReadingCatholic