Today is
Tuesday, June 6, 2023
This is the Saint of the Day list of Saints and Blesseds whose feast day falls on September 8 every year.
👉 Birth of the Blessed Virgin Mary
Our Lady of Charity of El Cobre
Saint Thomas of Villanova
Saint Corbinian
Pope Saint Sergius I
Blessed Antoine-Frédéric Ozanam
Saint Isaac the Great
Blessed Seraphina Sforza
Blessed Apolonia Lizárraga Ochoa de Zabalegui
Saint Disibod of Disenberg
Blessed Pascual Fortuño Almela
Blessed Plácido García Gilabert
Blessed Marino Blanes Giner
Blessed Alfredo Pellicer Muñoz
Our Lady of Meritxell
Blessed Alanus de Rupe
Blessed Wladyslaw Bladzinski
Blessed Thomas Palaser
Saint Ethelburgh of Kent
Saint István Pongrácz
Saint Adela of Messines
Blessed John Talbot
Blessed John Norton
Blessed Adam Bargielski
Blessed Peter of Chavanon
Saint Kingsmark
Saint Faustus of Antioch
St Faustus died as a martyr in Antioch in modern-day Turkey.
Saint Timothy of Antioch
St Timothy died as a martyr in Antioch in modern-day Turkey.
Martyrs of Alexandria
The Martyrs of Alexandria were a group of Egyptian Christians martyred together in Alexandria, Egypt during the persecutions of Diocletian.
Their names are;
Ammon
Dio
Faustus
Neoterius
Theophilus
Martyrs of Japan
The Martyrs of Japan are a group of 21 missionaries and converts who were on September 8 1628, in Nagasaki, Japan executed together for their faith.
On May 7 1867, they were beatified by Pope Pius IX.
Their names are;
Thomas Tomachi
Thomas of Saint Hyacinth
Romanus Aibara
Paulus Tomachi
Paulus Aibara Sandayu
Michaël Yamada Kasahashi
Michaël Tomachi
Matthaeus Alvarez Anjin
Ludovicus Nihachi
Lucia Ludovica
Leo Aibara
Laurentius Yamada
Ioannes Tomachi
Ioannes Imamura
Franciscus Nihachi
Francisco Castellet Vinale
Dominicus Tomachi
Dominicus of Saint Francis
Dominicus Nihachi
Antonio of Saint Dominic
Antonio of Saint Bonaventure
Martyrs of the Spanish Civil War
These are the names of some of the thousands of people were murdered from 1934 to 1939, during the anti-Catholic persecutions of the Spanish Civil War.
Their names are;
Blessed Tomàs Capdevila Miquel
Blessed Segimon Sagalés Vilá
Blessed Pascual Fortuño Almela
Blessed Miguel Beato Sánchez
Blessed Marino Blanes Giner
Blessed Mamerto Carchano y Carchano
Blessed Josep Padrell Navarro
Blessed Josefa Ruano García
Blessed Ismael Escrihuela Esteve
Blessed Eusebio Alonso Uyarra
Blessed Dolores Puig Bonany
Blessed Bonifacio Rodríguez González
Blessed Apolonia Lizárraga Ochoa de Zabalegui
Blessed Adrián Saiz y Saiz
Other Saints Celebrated Today
Our Lady of Valldeflors
Our Lady of Ripalta
Our Lady of Health of Vailankanni
Our Lady of Covadonga
Madonna della Libera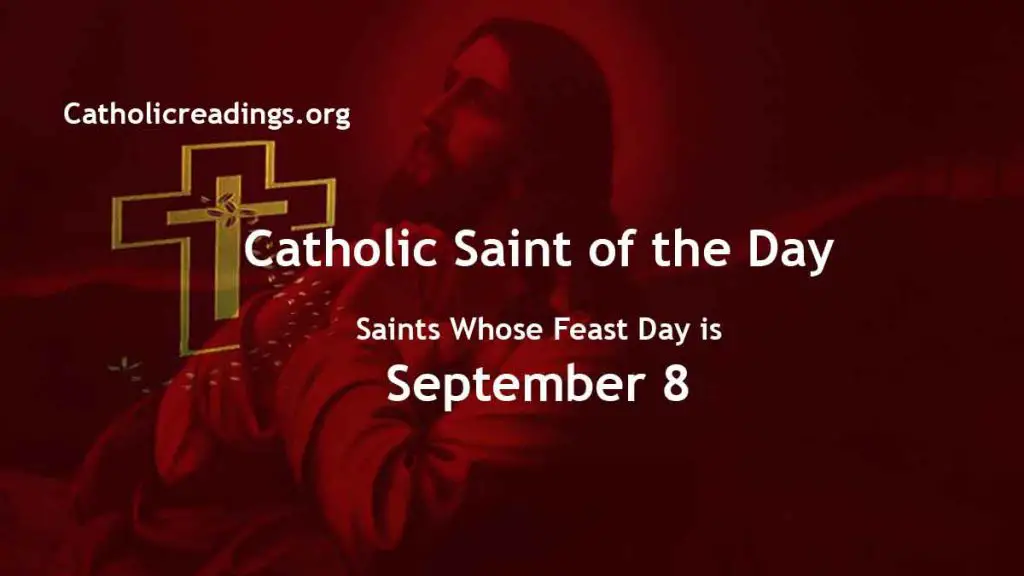 Powered By SEO Experts
Follow @ReadingCatholic