Today is
Saturday, September 30, 2023
St Portianus of Miranda Profile. Born: Mid 5th Century in France, Europe. Worked in France. Died: 533 AD in France. Feast Day is celebrated on November 24.
St Portianus of Miranda Biography

 
Date of Birth
Mid 5th Century
Country of Birth
France in Europe
Place of Work
France
Date of Death
533 AD
Place of Death
France
Feast Day
November 24
Canonization
Pre-Congregation
Patron Saint of
 
Saint Portianus of Miranda Biography
Saint Portianus of Miranda was also known as Porciano. Slave. He kept running from his lords and looked for shelter in Miaranda religious community, Auvergne, France.
He turned into a priest there, and later abbot. At a certain point, he requested that the Merovingian lord, Thierry of Austrasia, discharge his Auvergnate detainees; Portianus was so persuasive, the ruler concurred.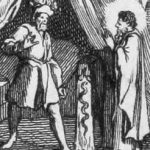 Other Saints Whose Feast Days are in November
Powered By SEO Experts
Follow @ReadingCatholic