St Servatius was the Bishop of Tongeren born in the 4th century in Armenia and died on May 13 384 AD in Maastricht, Netherlands. We celebrate his feast day on May 13 every year in the Catholic Church.
The Memorial of St Servatius of Tongeren – Feast Day

St Servatius of Tongeren Biography

Date of Birth
4th century
Country of Birth
Armenia in Asia
Matrimony/Holy Orders
Saints who were Bishops
Profession
Bishop
Place of Work
Belgium and Netherlands
Date of Death
May 13 384 AD
Place of Death
Maastricht, Netherlands
Feast Day
May 13
Canonization
Pre-Congregation
Patron Saint of
Maastricht
Invoked against foot troubles, lameness, rheumatism, rats, and mice
Saint's Biography
Saint Servatius of Tongeren was born in Armenia but moved to Belgium where he became bishop of Tongeren for 37 years.
Servatius hosted Saint Athanasius of Alexandria during his exile by the Arians. In 346 Servatius removed the heretical bishop of Cologne in Germany. In 359 he was present at the Council of Rimini.
He died on May 13 384 at Maastricht in the Netherlands of Fever. Miracles were reported at his tomb.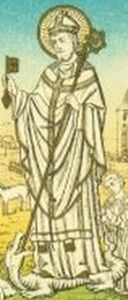 Powered By SEO Experts
Follow @ReadingCatholic