Today is
Wednesday, March 22, 2023
Saint Theodore Stratelates Biography
Saint Theodore Stratelates Profile. Born: N/A in Turkey, Europe. Worked in Turkey. Died: 319 AD in Heraclea, Thrace, Turkey. Feast Day is celebrated on November 9.
The Memorial of Saint Theodore Stratelates – Saint of the Day

Saint Theodore Stratelates Biography, Feast Day, Date of Birth, Country of Birth, Profession, Place of Work, Date of Death, Place of Death, Beatification Date, Canonization Date

Date of Birth
N/A
Country of Birth
Turkey in Europe
Matrimony/Holy Orders
Saints who were Not Married
Profession
Soldier
Place of Work
Turkey
Date of Death
319 AD
Place of Death
Heraclea, Thrace, Turkey
Feast Day
November 9
Beatification
Beatified by N/A
Canonization
Canonized by Pre-Congregation
Patron Saint of
Brindisi, Italy
recovery of lost articles
soldiers
Representation
St. Theodore Stratelates Biography
St. Theodore Stratelates was also known as Theodore the General. He was a Roman general and convert Christian during a time of persecution. He was exposed as a Christian and a military Tribunal decided he was a good soldier who had made a mistake, he told him to reconsider and set him free. Theodore intentionally burned down a pagan temple.
He was arrested again and ordered to apostatize then was tortured by having his flesh torn off. Theodore responded by reciting the Psalms. He is a martyr.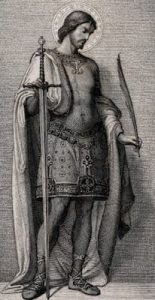 Follow @ReadingCatholic