Today is
Thursday, June 8, 2023
May 26 2023: Bible Verse of the Day – Friday of the Seventh Week of Easter – Simon, Son of John, Do You Love Me? – John 21:15-19
17 He [Jesus] said to him the third time, "Simon, son of John, do you love me?" Peter was distressed that he had said to him a third time, "Do you love me?" and he said to him, "Lord, you know everything; you know that I love you." Jesus said to him, "Feed my sheep

John 21:15-19
Catholic Readings For Today
Friday of the Seventh Week of Easter
Bible Verse of the Day for May 26 2023 Reflections
Today, Jesus is reminding us of love and service to God, our friends, and families, and to humanity.
In our verse today we see Jesus asking Simon Peter three times if he loves Him. Peter responds in the affirmative.
In the English translation, the word love is used in all the three instances but in the original Greek scroll, there is a little difference in the use of the word love.
In Greek, the word love can have different meanings i.e.
# Eros – romantic and erotic love
# Philia – The brotherly love between family members and neighbourliness.
# Agape – The unconditional love for Humanity in a Godly way and the self-sacrifice for the sake of others
In the first and second questions to Simon Peter, Jesus was referring to the Agape love in His questions. But Peter responded to all the three questions with reference to the Philia Love, meaning he loved Jesus as a friend very much.
In the first question, Jesus asks Peter if he loves Him self-sacrificially "more than these." But having betrayed Jesus, he could not claim to love Jesus more than a friend. Deep in his heart, he still felt guilty about that betrayal.
In the third question, Jesus lowered the scope to Philia love, and there was a consensus between them on the meaning of Love. So what do we learn from this?
Our greatest lesson is that Jesus will work with us and in us from whatever level of love we have. We are weak and fragile human beings and Jesus understands that.
But even though we are weak, Jesus demands humility from us in order for His glory to be manifested in us to the world.
Prayer: Lord Jesus Christ, we acknowledge that we are weak. Work with us and in us and shower us with your humility so that as we proclaim Your Word to the world our human demeanour may not defile Your Word. Increase the Agape love in us so that we may serve humanity with unconditional love and self-sacrifice. Amen.
Bible Verse of the Day in Pictures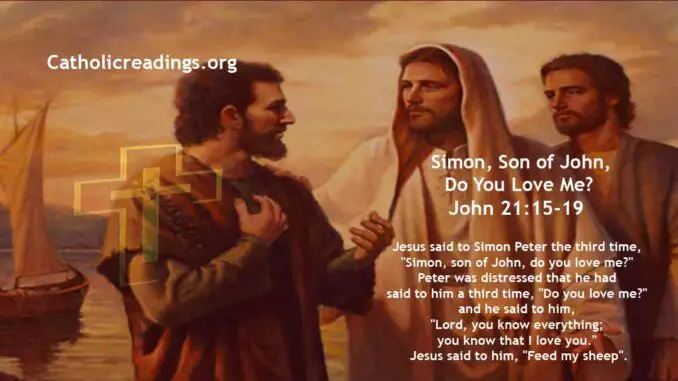 Related Links
Powered By SEO Experts
Follow @ReadingCatholic