Today is
Tuesday, May 30, 2023
May 22 2023: Bible Verse of the Day – Monday of the Seventh Week of Easter – You Will Have Trouble But Take Courage, I Have Conquered The World – John 16:29-33
31 Jesus answered them, "Do you believe now?
32 Behold, the hour is coming and has arrived when each of you will be scattered to his own home and you will leave me alone. But I am not alone, because the Father is with me.
33 I have told you this so that you might have peace in me. In the world, you will have trouble, but take courage, I have conquered the world."

John 16:29-33
Catholic Readings For Today
Monday of the Seventh Week of Easter
Bible Verse of the Day for May 22 2023 Reflections
Jesus tells us that in this world, we will have trouble, and indeed trouble we have. Christ is very candid with us, He does not promise us milk and honey in our earthly life. He, however, encourages us not to give up because He also did not give up.
Jesus Himself experienced all manner of suffering and persecution to show us an example of how we should also live.
Although He was the True God, He chose to live as a true man so that He can become a real-life example of how we too should live our lives.
Christ says He conquered the world. Therefore we should always find shelter under His mighty wings for He has everything we require to survive in this harsh world today.
Prayer: Lord Jesus Christ, we pray today that You shelter us under your wings so that we may stay away from evil temptations that can lead us to trouble and suffering.
Help us to be courageous like Your Apostles who did not fear persecution or even death in their bid to spread the Good News to the whole world. We pray and believe. Amen.
Bible Verse of the Day in Pictures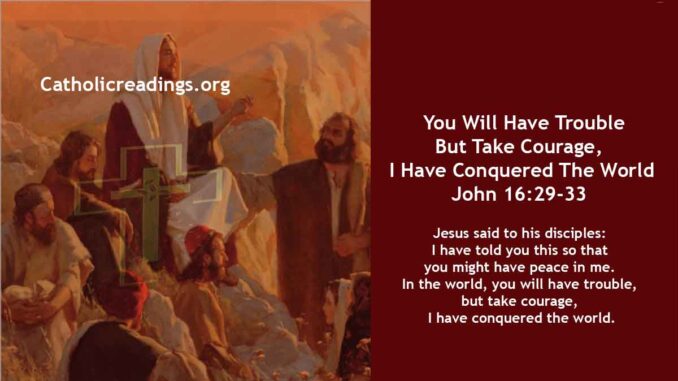 Related Links
Powered By SEO Experts
Follow @ReadingCatholic