Today is
Sunday, June 4, 2023
May 1 2023 – Bible Verse of the Day – Monday of the Fourth Week of Easter, Fourth Sunday of Easter
The gatekeeper opens it for him, and the sheep hear his voice, as the shepherd calls his own sheep by name and leads them out.

When he has driven out all his own, he walks ahead of them, and the sheep follow him, because they recognize his voice.

John 10:1-30
Let us Pray: Dear Lord, assist me in recognizing and cherishing Your tender voice in every aspect of my daily routine.
May Your voice overshadow all the other sounds that strive to distract me. I choose You as my sole shepherd and advisor, dear Lord. Jesus, I love You. Amen.
Catholic Readings For Today
Monday of the Fourth Week of Easter
Bible Verse of the Day for May 1 2023 Reflections
What is the aspect of life you're most acquainted with? Which internal or external voices do you hear frequently in your mind?
We come across various influences regularly, some of which are beneficial while others are not. We often convince ourselves that the multitude of voices or influences we encounter each day have no impact on us.
The media, pop culture, the love of money, and the desire for recognition are among the compelling factors that push us. They hold significant sway over us, and whether we acknowledge it or not, they have an impact on us.
The Gospel provides an understanding of the inner conflict by distinguishing between the voice of the Shepherd and that of a stranger. The sheep have a natural inclination to learn and adapt.
The sheep become familiar with their shepherd's voice because it was customary for shepherds to frequently communicate with their flock.
As the sheep became accustomed to the sound of their shepherd's voice, they would respond by turning towards him and following his call.
The same principle applies to us, as we tend to follow the voice that we are most accustomed to. Our daily immersion in certain activities or stimuli will gradually have an influence on us, and without realizing it, we will be drawn to follow them.
This leads to the question of what we are most familiar with. It is recommended that we spend adequate time studying God's Word to become familiar with His language, tone, and voice.
It is also advised that we set aside a portion of our day for silent contemplation of God. By doing this, we develop a habit of listening to His voice and become at ease and consoled by it.
Once we have developed this practice, it becomes simpler to continue hearing God throughout our busy day whenever He decides to communicate with us. We will instantly recognize His voice and obediently follow His guidance.
Take time today to contemplate what captures your attention the most. Don't let the multitude of voices in the world drown out God's voice.
Instead, ready yourself for when He chooses to communicate with you. When He does speak, allow His voice to seize your focus so that you can follow His guidance.
Bible Verse of the Day in Pictures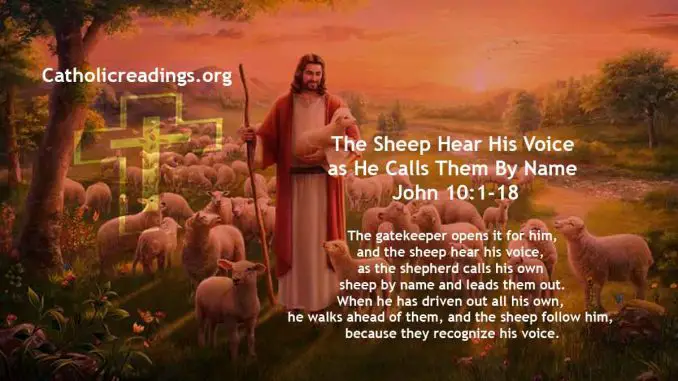 Related Links
Powered By SEO Experts
Follow @ReadingCatholic