Today is
Thursday, March 23, 2023
Bible Verse of the Day – Divine Mercy Sunday, Year B
27 Then he said to Thomas, "Put your finger here and see my hands, and bring your hand and put it into my side, and do not be unbelieving, but believe."
28 Thomas answered and said to him, "My Lord and my God!"
29 Jesus said to him, "Have you come to believe because you have seen me? Blessed are those who have not seen and have believed."

John 20:27-29
Catholic Readings for Today
Today's Bible Verse of the Day Reflections
Jesus was crucified, died and was buried. This is what Thomas knew at that time when Jesus was appearing to His disciples after His resurrection.
Thomas, just like all of us would have done, didn't believe that Jesus had resurrected. But Jesus was not angry or mad at him for his disbelief, infact, He had to come again a second time so as to reveal Himself to Thomas.
This underscores the very important task that Jesus wants us to undertake even with our human weakness. Jesus will still use us to spread His Gospel to the whole world.
After realizing that Jesus resurrected and is alive, Thomas said to Jesus, "My Lord and my God." These words transformed Thomas from a dis-believer to a believer in the risen Christ. So, the pronouncement we make from our hearts through the mouth are very strong.
Let us today say like Thomas, 'My Lord and my God' in every difficult situation where we find ourselves doubting the power of Jesus Christ. Jesus will always reveal Himself to us both in our strongest and weakest points in our day to day life.
Thomas, despite his doubt in the Risen Christ, became one of the greatest Gospel evangelizers in Asia. We too should not be bogged down by our weaknesses, let us rise to the occasion and do Gods will of spreading His Word to the whole world.
Prayer: Dear God, bypass our human weaknesses and use us to spread Your world to the whole world just the same way You used Apostle Thomas. Help us to never doubt Your presence in our lives and that You will always help us when be believe in You and call on Your Holy Name. Amen.
Bible Verse of the Day in Pictures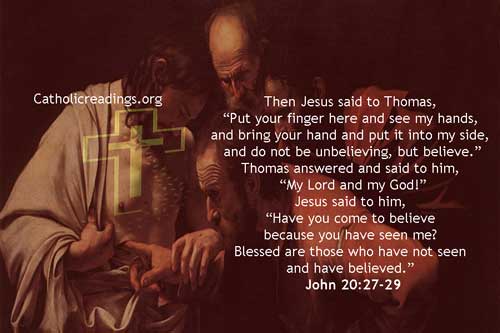 Powered By SEO Experts
Follow @ReadingCatholic