Today is
Thursday, June 1, 2023
Blessed Laurentius Pak Chwi-deuk Biography
Bl. Laurentius Pak Chwi-deuk Profile. Born: 1769 AD in South Korea, Asia. Worked in South Korea. Died: April 3 1799 in Hongju, Chungcheong-do, South Korea. Feast Day is celebrated on April 3.
The Memorial of Bl. Laurentius Pak Chwi-deuk – Saint of the Day

Bl. Laurentius Pak Chwi-deuk Biography, Feast Day, Date of Birth, Country of Birth, Profession, Place of Work, Date of Death, Place of Death, Beatification Date, Canonization Date

Date of Birth
1769 AD
Country of Birth
South Korea of Asia
Matrimony/Holy Orders
Blesseds who were Not Married
Profession
Missionary
Place of Work
South Korea
Date of Death
April 3 1799
Place of Death
Hongju, Chungcheong-do, South Korea
Feast Day
April 3 or September 20
Beatification
Beatified by Pope Francis on August 16 2014
Canonization
Patron Saint of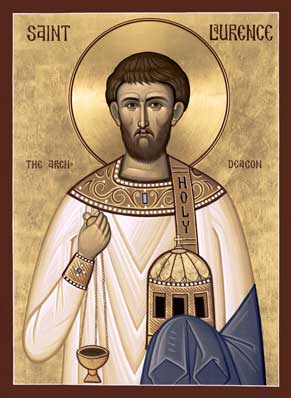 Blessed's Biography
Lorenzo Pak Chwi-deuk was born in Myeoncheon, in Chungcheong district, in 1769. He first heard the preaching of Catholicism in his hometown, but he learned the catechism when he was going to Seoul, from the catechism Saba Ji Hwang. When he returned home, he proclaimed the Gospel among his family and his neighbors.

First Arrest
Lorenzo Pak Chwi-deuk immediately arrested after he questioned the authority on how they handle prisoners. The soldiers transferred Lorenzo to Haemi and then to Hongju and he never lost hope. Less than a month he was granted freedom.

After the liberation, Lorenzo continued his preaching and remained in contact with two other believers, Giacomo Won Si-bo and the army officer Francesco Bang. An arrest warrant issued for Lorenzo Pak Chwi-deuk in 1797. On hearing the news, he ran away but gave up when he learned that his father arrested in his place.
Second Arrest
Lorenzo tortured but never lost his faith and was kept in prison for several months. Lorenzo, then he was transferred to Hongju.
Death
Bl. Laurentius Pak Chwi-deuk was hanged on April 3, 1799, in Hongju, Chungcheong-do, South Korea. He was about thirty.
Follow @ReadingCatholic