Today is
Tuesday, November 28, 2023
Guardian Angel of God Prayer: We pray to each of our Holy Guardian Angel because they are the special angels assigned to us by God, to watch over all mankind and over individual human beings from grave danger from birth until death.
These are two prayers that you can use to pray to your Guardian Angel.
Guardian Angel (Angel of God)
O Angel of the Lord,
Appointed by the Divine Mercy,
to be my guardian,
Enlighten and protect,
Direct and govern me this day. Amen.
Prayer 2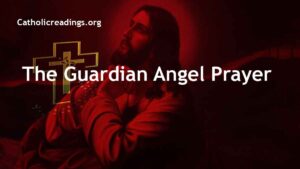 O Angel of God,
my guardian dear,
To whom God's love
commits me here,
Ever this day,
be at my side,
To light and guard,
Rule and guide. Amen.
The angels most often protect us from physical danger and also from committing sin. They also come to our aid at the time of our death. When we are on the verge of committing sin, we should turn to our guardian angels for strength and protection.
This is because God has placed a guardian angel beside every one of us to act as a guide, guard, shepherd, and protector and to help him live according to the Holy Will of God.
Powered By SEO Experts
Follow @ReadingCatholic