Bible Verse of the Day – Tuesday in the Octave of Easter
16 Jesus said to her, "Mary!" She turned and said to him in Hebrew, "Rabbouni," which means Teacher.
17 Jesus said to her, "Stop holding on to me, for I have not yet ascended to the Father. But go to my brothers and tell them, 'I am going to my Father and your Father, to my God and your God.'"

John 20:11-18
Catholic Readings for Today
Tuesday in the Octave of Easter
Today's Bible Verse of the Day Reflections
Today we are celebrating the feast day of Mary Magdalene. She was among the women who were first to witness the resurrection of Jeus Christ.
Mary Magdalene followed Jesus wherever He went because she realised that Jesus was no ordinary man. The life history of Mary Magdalene is very dramatic but very relevant to us because she was considered a sinful woman but after meeting Jesus, she turned a new leaf and started serving Jesus until He ascended to heaven.
During her dramatic saving, she said not a word, but bathed Jesus' feet with her tears, wiped them with the hair of her head and kissed them in humility. Jesus in return said to her, "your sins are forgiven." All these happened inside a pharisees house where Jesus said that those whose many sins are forgiven will have more gratitude to God than those who had little sins. This is why, because Mary was a sinner before, she had so much love and gratitute for Jesus Christ and this is manifested during His passion, death and resurrection.
It was this much love for Jesus Christ that made her go to His grave in the morning to serve Him only to find that He had risen from the dead. In much anguish, she panicked and was terrified that Jesus had disappeared again from her sight but Jesus knew this and appeared to her and said, "stop holding on to me for I have not yet ascended to the Father … I am Going to My Father and Your Father, to My God and Your God." This means that since Jesus is now ascended to Heaven we are now free to hold on to Him all we can.
Let us today learn from the story of Mary Magdalene that when we feel that we have too many sins then that becames an opportunity to repent and be overly grateful to God for offloading that burden. We should then hold on to Jesus the way a good branch is always attached to the True Vine who is Jesus Christ.
Prayer: Saint Mary Magdalene pray for us to God our father so that our sins may be forgiven the same way Jesus Christ forgave your many sins. It was through the same prayers that our Lord answered and raised your Brother Lazarus from the dead back to life. Amen.
Bible Verse of the Day in Pictures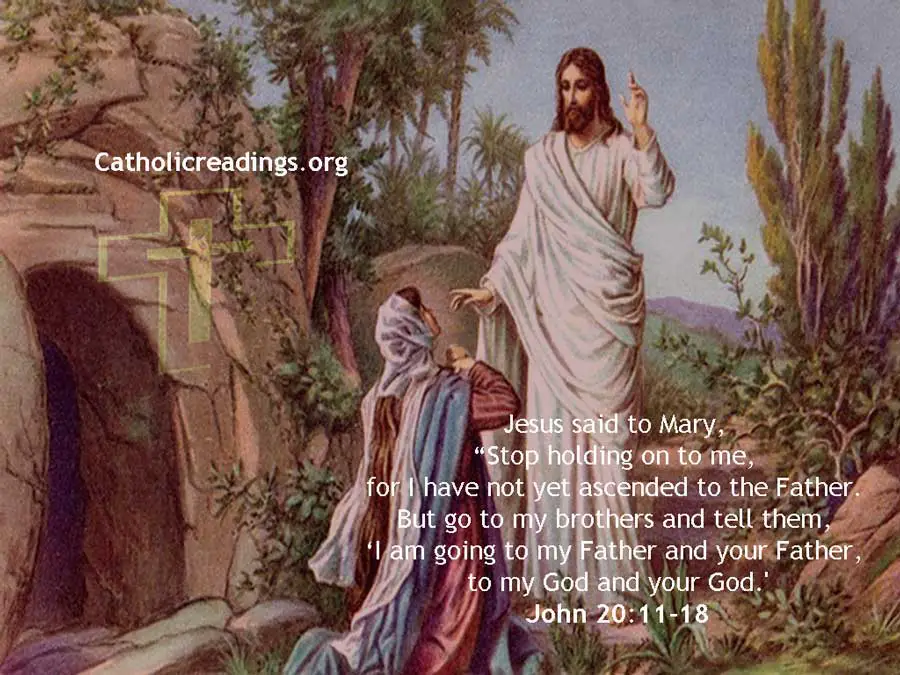 Powered By SEO Experts
Follow @ReadingCatholic