Today is
Tuesday, May 30, 2023
May 20 2023: Bible Verse of the Day – Saturday of the Fourth Week of Easter – Now I am Leaving The World And Going Back To The Father – John 16:23-28
27 For the Father, himself loves you because you have loved me and have come to believe that I came from God.
28 I came from the Father and have come into the world. Now I am leaving the world and going back to the Father."

John 16:23-28
Catholic Readings For Today
Saturday of the Fourth Week of Easter
Bible Verse of the Day for May 20 2023 Reflections
Jesus tell us today that God loves us through everything good we do. In today's verse we are assured that God loves us by believing that Jesus is His Son and that He came from Him.
Jesus is emphasizing on the power of love especially now that He is preparing to ascend back to His Heavenly Father.
It is love that will keep us glued to Jesus and God. It is by being attached to Jesus – The True Vine – that we will get everything that we need to bear good fruits as is the wish of Our Heavenly Father.
Jesus is telling us that because we love Him, we can ask anything in His name and we will receive, so that our joy may be complete.
The greatest commandment that Jesus Christ gave us is to love The Lord our God with all our heart, soul and mind and to love our neighbours with the same intensity we love ourselves.
Prayer: Jesus Christ, we love You and we trust in You. We ask for your providence, Love Protection, guidance, guardianship and care.
Always help us to remain attached to You so that we may remain good branches that bear good fruits.
Send forth Your Holy Spirit to strengthen our faith, hope and love so that we may live a holy life and join You in Heaven on the last day. Amen.
Bible Verse of the Day in Pictures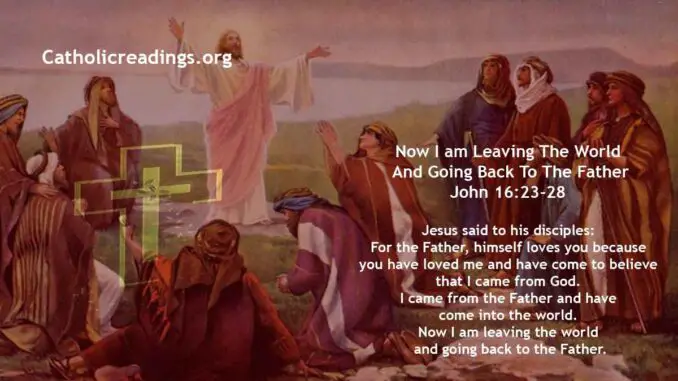 Related Links
Powered By SEO Experts
Follow @ReadingCatholic