Today is
Thursday, June 8, 2023
May 12 2023: Bible Verse of the Day – Friday of the Fifth Week of Easter – I Have Chosen and Appointed You To Go and Bear Fruit – John 15:12-17
16 It was not you who chose me, but I who chose you and appointed you to go and bear fruit that will remain, so that whatever you ask the Father in my name he may give you.

17 This I command you: love one another."

John 15:12-17
Let us Pray: Lord, I am aware that You have selected me for a specific purpose, and I embrace Your calling in my life.
I acknowledge that You have appointed me to accomplish Your mission in a distinct and magnificent manner. Please aid me in consistently responding with the willingness to Your call. Jesus, I love you. Amen.
Catholic Readings For Today
Friday of the Fifth Week of Easter
Saints whose feast day is May 12
Bible Verse of the Day for May 12 2023 Reflections
Children enjoy playing games and when teams are formed, they eagerly wait to be picked by one of the teams.
Every child desires to be selected first as it makes them feel valued and appreciated. However, being picked last can be a challenging and unpleasant experience for a child.
This illustrates the human longing to be accepted and valued. Thankfully, God chooses each one of us and desires us to be a part of His family. Recognizing this truth is crucial and can be a source of encouragement and affirmation.
Reflecting on the fact that God chose us even before we were born is a beneficial spiritual practice. God knew us from all eternity and desired to bring us into His family. It's crucial to acknowledge, accept, and have faith in this truth that we truly belong to Him.
God doesn't just choose us to be part of His family, but He also selects us for a significant mission. He desires to utilize us to produce fruit for His Kingdom and calls us to a sacred purpose. Being part of His team infuses our lives with direction and significance.
Even if we feel like we lack the necessary skills or abilities to make an impact, we should keep in mind that God doesn't view us that way.
Instead, He recognizes the immense possibilities that reside within us and chooses to employ them in advancing His Kingdom.
Bible Verse of the Day in Pictures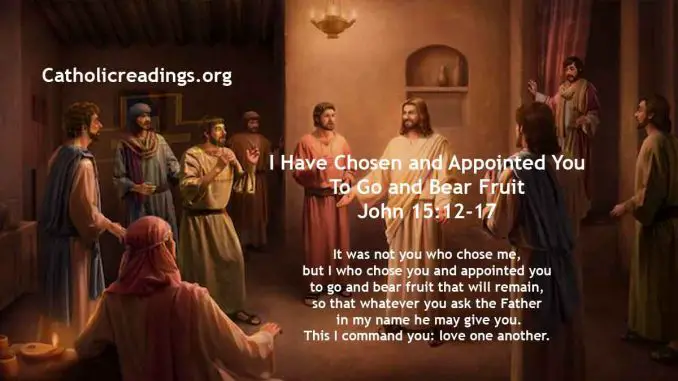 Related Links
Powered By SEO Experts
Follow @ReadingCatholic