Today is
Sunday, June 4, 2023
May 2 2023: Bible Verse of the Day – Tuesday of the Fourth Week of Easter – If You are The Christ Tell Us Plainly – John 10:22-30
24 So the Jews gathered around him and said to him, "How long are you going to keep us in suspense? If you are the Christ, tell us plainly."

25 Jesus answered them, "I told you and you do not believe. The works I do in my Father's name testify to me.

26 But you do not believe, because you are not among my sheep.

John 10:22-30
Let us Pray: Dear Lord, my faith often impedes me from clearly hearing Your voice. I frequently seek the simplest solution to the most challenging problems.
Please assist me in developing patience so that I may understand You better and let You become my genuine guide. Jesus, I love You. Amen.
Catholic Readings For Today
Tuesday of the Fourth Week of Easter
Bible Verse of the Day for May 2 2023 Reflections
After Jesus made a particular statement, His followers may have been puzzled. They desired to have faith in Jesus as the Messiah, so they requested Him to confirm whether He was indeed the Messiah.
In reply, Jesus reminded them that He had previously revealed this information, but they had not believed Him. This scenario is intriguing.
It is essential to note that Jesus was not expressing criticism in this situation. Instead, He was aiding His followers in comprehending His language.
He was guiding them to grasp that the answer to their inquiry was not a matter of Jesus merely stating, "I am the Messiah!"
Instead, the answer to their inquiry had to be revealed to them by the Father in Heaven, as they listened to Jesus and observed His miracles, and as He spoke to their hearts.
The response was to be conveyed to them through the bestowal of faith that had to be embraced internally. This gift of faith would provide them with the assurance they craved.
Similar to the situation faced by Jesus' followers, the same holds true for us. There may be moments when we desire God to appear in front of us and give us straightforward answers to our questions. However, He already does this, but in His perfect manner and language.
The language that God speaks is that of faith, which necessitates us to fully surrender our minds and wills to Him to be able to listen and comprehend it. This is the sole means to be transformed in the manner that God desires.
Take time today to contemplate how attentively you listen to God when He speaks. It is possible that you can improve your ability to hear Him more distinctly and identify His voice of Truth.
When you hear His voice, allow yourself to be entirely persuaded by everything He communicates. Allow this profound conviction to govern your life.
Bible Verse of the Day in Pictures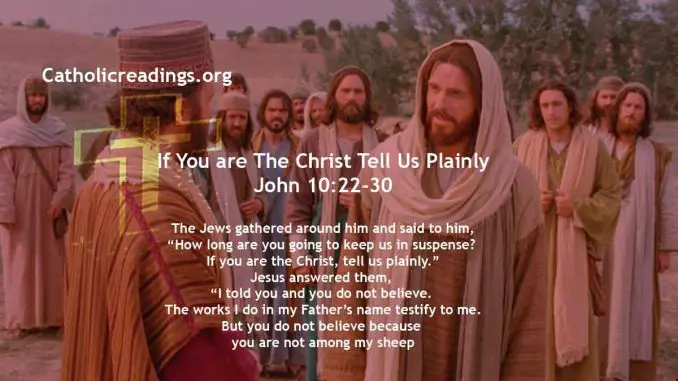 Related Links
Powered By SEO Experts
Follow @ReadingCatholic