Today is
Sunday, June 4, 2023
April 21 2023: Bible Verse of the Day: Friday of the Second Week of Easter, Tuesday After Epiphany, Twelfth Sunday in Ordinary Time Year C, Eighteenth Sunday in Ordinary Time Year A – Jesus Feeds Five Thousand Men – Matthew 14:13-21, Mark 6:34-44, Luke 9:14-17, John 6:1-15
Now the men to feed there numbered about five thousand, Then Jesus said to his disciples, "Have them sit down in groups of about fifty."
Then taking the five loaves and the two fish, and looking up to heaven, he said the blessing over them, broke them and gave them to the disciples to set before the crowd.
They all ate and were satisfied. And when the leftover fragments were picked up, they filled twelve wicker baskets.

Matthew 14:13-21, Mark 6:34-44, Luke 9:14-17, John 6:1-15
Let us Pray: Lord Jesus Christ, I love You, trust You and believe in You. Forgive me of my sins so that when I receive Your Body and Blood, I may live in You and You in Me forever. Amen
Catholic Readings for Today
Friday of the Second Week of Easter
Twelfth Sunday in Ordinary Time Year C
Eighteenth Sunday in Ordinary Time, Year A
Corpus Christi – The Solemnity of the Most Holy Body and Blood of Christ, Year C
Bible Verse of the Day for April 21 2023 Reflections
Jesus manifested Himself as the Food that lasts forever. He revealed that He is the Bread of Life, Bread that never gets finished.
Out of only two fish and five loaves of bread, Jesus feeds a mammoth crowd, who among them were a whopping five thousand men. This was a miracle. What human beings can't comprehend we call it a miracle.
This miracle itself is a demonstration of Jesus' divine power and his ability to provide for people's needs beyond what is humanly possible.
This can be seen as a message of abundance, reminding us that God's provision is limitless and that we should trust in Him to meet our needs.
This story also highlights the importance of faith. The disciples were initially skeptical about how they would feed such a large crowd, but Jesus encouraged them to have faith and trust in God's provision.
This serves as a reminder that, even in the face of seemingly impossible circumstances, we should have faith and trust in God's plan for our lives.
The story also demonstrates Jesus' compassion for the needs of others. Rather than turning the crowd away or asking them to fend for themselves, he generously provided for them and met their physical needs.
This can serve as an inspiration for us to show compassion and kindness to those around us, especially those who are in need.
In the passage, it is written that Jesus looked up to heaven and blessed the loaves and fish and gave it to the disciples to distribute to the people. This is the same way He did during the Last Supper when He said, "Take this all of you and eat it, for This is My Body."
During the celebration of the Solemnity of the Most Holy Body and Blood of Christ, The Corpus Christi, we celebrate the Transubstantiation of the Bread and Wine offered at the alter into The Most Holy Body and Blood of our Lord Jesus Christ. We always do this during the Liturgy of the Eucharist.
The Body of Christ is Placed in the Monstrance and is exposed to the general public through a procession in the streets.
Jesus instructed us to remember Him during the Holy Eucharist by eating His Body and drinking His Blood. Through this, we will dwell in Jesus and He will dwell in us and we will be raised on the Last day.
Prayer: Lord Jesus Christ, I love You, trust You and believe in You. Forgive me of my sins so that when I receive Your Body and Blood, I may live in You and You in Me forever. Amen
Bible Verse of the Day in Pictures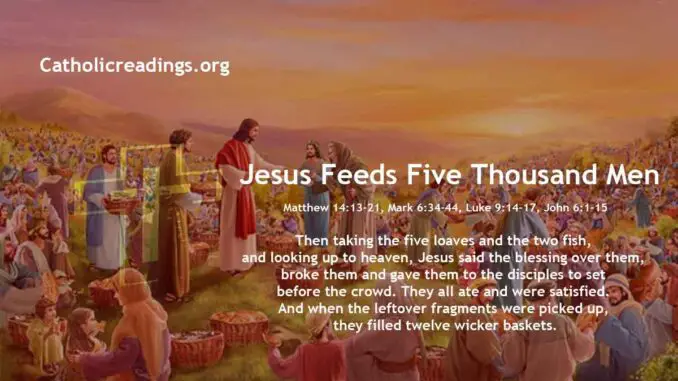 Related Links
Powered By SEO Experts
Follow @ReadingCatholic