Today is
Sunday, June 4, 2023
Bible Verse of the Day – Wednesday of the Fourteenth Week in Ordinary Time
5 Jesus sent out His Twelve Disciples after instructing them thus, "Do not go into pagan territory or enter a Samaritan town.
6 Go rather to the lost sheep of the house of Israel.
7 As you go, make this proclamation: 'The Kingdom of heaven is at hand.'

Matthew 10:1-7
Catholic Readings For Today
Wednesday of the Fourteenth Week in Ordinary Time Year 1
Wednesday of the Fourteenth Week in Ordinary Time Year 2
Today's Bible Verse of the Day Reflections
Today, Jesus is sending all of us to the world to proclaim that the Kingdom of Heaven is at Hand. We are being sent to get the lost souls back to God.
When Jesus sent out His twelve disciples, He tells them not to go to pagan territory or Samaritan towns, He does not mean that non-Jews don't need to know Christ. He means that before we go further afield to proclaim the Good News, we should start proclaiming to our neighbours.
In our world today, most of the preachers, Pastors, Priests and Religious have (let me say with a lot of humility) abandoned the work of proclaiming to our close friends, family members, proximate neighbours and workmates. Nowadays, we are experiencing scenarios where the immediate family members of our clergy are lost to the forces of the evil ones like crime. This is why Jesus is urging all us today to first of all preach to those close to us before casting our nets wider.
It would be very discouraging for us to be rejected elsewhere we go to preach because we have failed to achieve the same in our home areas. The world today is in the information age and what we do or fail to do can spread instantly. So let's heed to Jesus call to start proclaiming the Word of God to our family members then to our neighbours then to others.
Prayer: Lord Jesus Christ, we heed to Your call to preach the Gospel to those close to us. We know that a prophet's word is not taken with honour in his home area but give us the fortitude and resilience to overcome this phenomenon. Give us the strength to proclaim Your Word to our loved ones, family, friends and neighbours. Amen
Bible Verse of the Day in Pictures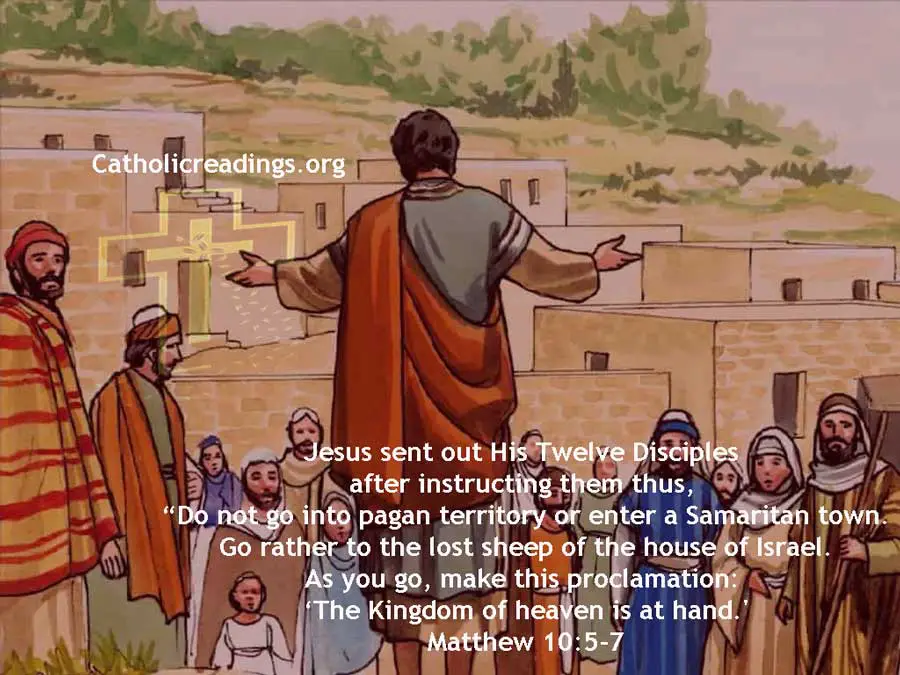 Powered By SEO Experts
Follow @ReadingCatholic