Today is
Monday, March 20, 2023
Catholic Daily Reflections – Friday of the Third Week of lent, Thursday of the Ninth Week in Ordinary Time, Friday of the Twentieth Week in Ordinary Time, Thirtieth Sunday in Ordinary Time Year A, Thirty-first Sunday in Ordinary Time, Year B
"Teacher, which commandment in the law is the greatest?"
He said to him, "You shall love the Lord, your God, with all your heart, with all your soul, and with all your mind.
This is the greatest and the first commandment.
The second is like it: You shall love your neighbor as yourself.
The whole law and the prophets depend on these two commandments."

Matthew 22:34-40 and Mark 12:28-34
Catholic Readings For Today
Friday of the Third Week of lent
Thursday of the Ninth Week in Ordinary Time, Year 1
Thursday of the Ninth Week in Ordinary Time, Year 2
Friday of the Twentieth Week in Ordinary Time, Year 1
Friday of the Twentieth Week in Ordinary Time, Year 2
Thirtieth Sunday in Ordinary Time, Year A
Thirty-first Sunday in Ordinary Time, Year B
Today's Catholic Daily Reflections
Well! Well! Well! Today we finally hear Jesus Christ telling us the two cardinal commandments that sum-up all other constitutions, laws, Acts of Parliament, rules and regulations, terms and conditions and all other guidelines that people put in place to govern themselves.
The commandment of love is the most important in this world because, lack of it causes us to start writing other small earthly laws to micro-manage what would have been handled well by embracing love in the first place.
All the evils of this world are brought about by lack of love for God and for our neighbours too. Earthly laws are enacted to prevent a person from hurting another person or the enviromnent around.
If we love God, we would take care of the environment, and all that lives in both the land and the sea, just as He commanded man during creation.
If we love our neighbours, we wouldn't hurt them physically, socially or psychologically. We would be living in perfect harmony, just the way God intended for us. But, because we do not have love in our hearts, everything else in us and around us falls apart.
Therefore, let us start loving the Lord our God with all our hearts, all our soul and all our mind and loving our neighbours as ourselves, and we will start seeing the world around us changing for the better, with less crimes, murders, plunder of public resources, corruption and other evils brought about by lack of love.
Prayer: Lord God, we love You with all our hearts, mind and soul. We ask You to give us the strength and will to continue loving our neighbours as ourselves, despite all the brutality, persecutions, hatred, jealous and malice that we receive from them on daily basis. May we not seek revenge because we place all these burdens unto Your able hands. Amen.
Catholic Daily Reflections in Pictures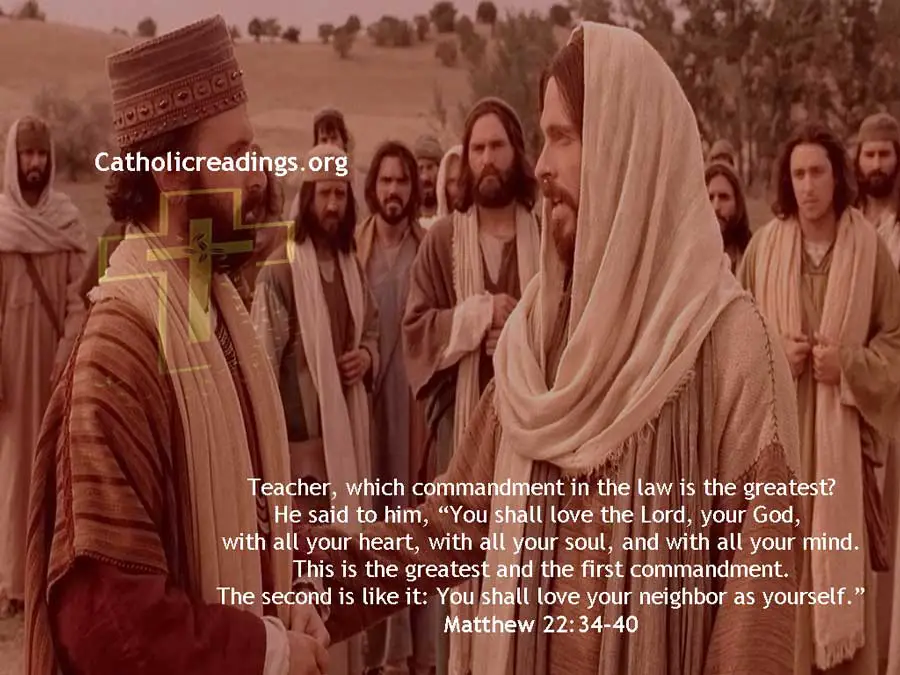 Related Links
Powered By SEO Experts
Follow @ReadingCatholic