Today is
Sunday, June 4, 2023
Bible Verse of the Day – Friday after Epiphany, Thursday of the First Week in Ordinary Time, Friday of the Twelfth Week in Ordinary Time, Sixth Sunday in Ordinary Time Year B
And then a leper approached, did him homage, and said, "Lord, if you wish, you can make me clean."
He stretched out his hand, touched him, and said, "I will do it. Be made clean." His leprosy was cleansed immediately.

Matthew 8:1-4, Luke 5:12-16, Mark 1:40-45
Catholic Readings For Today
Sixth Sunday in Ordinary Time, Year B
Thursday of the First Week in Ordinary Time, Year 1
Thursday of the First Week in Ordinary Time, Year 2
Friday of the Twelfth Week in Ordinary Time, Year 1
Friday of the Twelfth Week in Ordinary Time, Year 2
Today's Bible Verse of the Day Reflections
An amazing miracle takes place and Jesus simply tells the one healed to "tell no one." Why does Jesus say this?
First, we should start by reflecting upon what Jesus did. By cleansing this leper He restored this man's entire life to him. He was living as an outcast, separated from the community; his leprosy, in a sense, took everything from him. But he had faith in Jesus and presented himself to the care and mercy of God. The result was that he was made whole and restored to full health.
Jesus often would tell those who were healed to tell no one. One reason for this was that Jesus' acts of love and mercy were not done for His own benefit, rather, they were done out of love. Jesus loved this leper and wanted to offer Him this precious gift of healing.
He did it out of compassion and, in return, only wanted the man's gratitude. He did not need to make this a public spectacle, He only wanted the man to be grateful.
The same is true with us. We need to know that God loves us so much that He wants to lift our heavy burdens and heal our weaknesses simply because He loves us. He doesn't do it first because it will benefit Him, rather, He does it out of love for us.
One lesson we can learn from this has to do with our own acts of love and mercy towards others. When we go out of our way to show love and compassion, are we OK with no one knowing? Too often we want to be noticed and praised.
But the nature of an act of love and compassion is such that it should be done simply out of love. In fact, doing something loving and compassionate that is not noticed by anyone helps us grow in love and compassion. It purifies our intentions and enables us to love for love's sake.
Reflect, today, on your motivation for the acts of kindness you do. Pray that you also can desire to act in hidden ways in imitation of our divine Lord.
Prayer: Lord, may I grow in love of others and express that love in a pure way. May I never be motivated by a desire for vain praise. Jesus, I trust in You. Amen.
Bible Verse of the Day in Pictures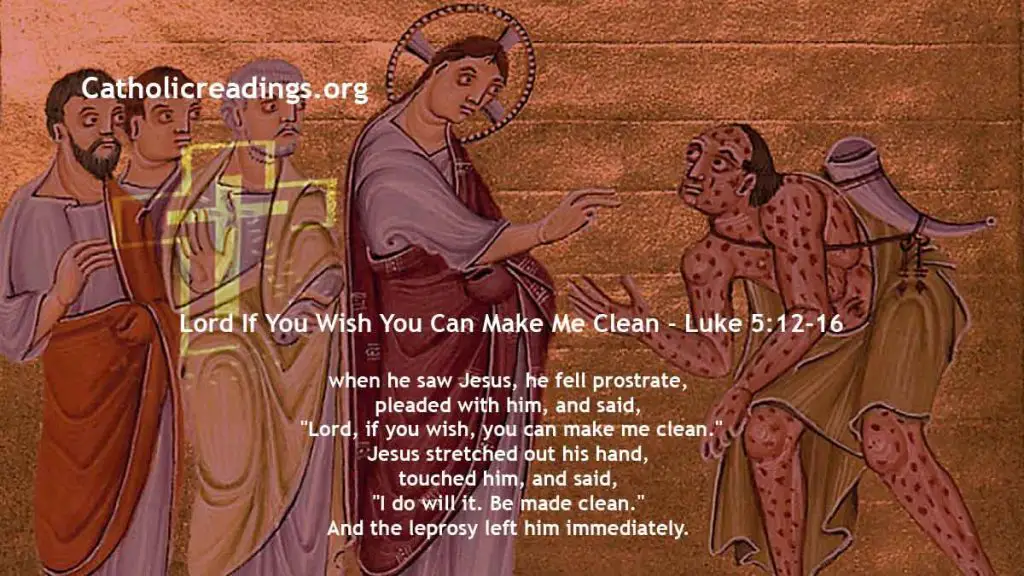 Powered By SEO Experts
Follow @ReadingCatholic