Today is
Sunday, June 4, 2023
May 25 2023: Bible Verse of the Day – Seventh Sunday of Easter Year C, Thursday of the Seventh Week of Easter – Father, I Wish That Where I Am My People Also May Be With Me – John 17:20-26
Lifting up his eyes to heaven, Jesus prayed saying:
20 "I pray not only for these but also for those who will believe in me through their word
24 Father, they are your gift to me. I wish that where I am they also may be with me, that they may see my glory that you gave me because you loved me before the foundation of the world.

John 17:20-26
Catholic Readings For Today
Seventh Sunday of Easter, Year C
Thursday of the Seventh Week of Easter
Bible Verse of the Day for May 25 2023 Reflections
Jesus loves us very much. His prayer for us to God is that we may be with Him wherever He is. It is His wish that all we who believe in Him may enjoy eternal life with Him on the last day.
Christ wants us to believe in Him and also believe that He was sent to earth by God the Father to redeem mankind from our sins. It is
He calls us His gift. A gift is something you cherish so much and hold dearly when someone you love gives it to you.
God the Father loves His son and us too. God the Son loves His Father and us too. So it is now upon us to love God in the Holy Trinity so that we may be in communion with the Father and the Son and they too may be in us.
Let us today continue to Love God in the Holy Trinity as they already love us. Let Jesus Christ's prayer for us come to fruition when we join the communion of Angels and Saints in glorifying God in His majesty.
Prayer: Lord Jesus Christ, I love You so much. My heart yearns to be with You now and always until the last day. Help me to always remain attached to You, the True Vine, and I, the fruitful branch. May your providence be enough for me forever. Amen.
Bible Verse of the Day in Pictures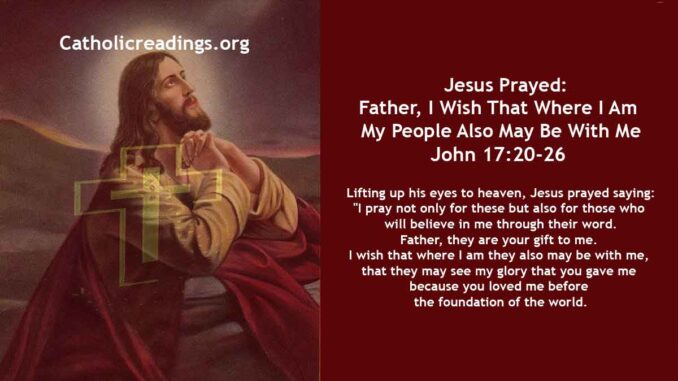 Related Links
Powered By SEO Experts
Follow @ReadingCatholic