Today is
Thursday, June 1, 2023
April 4 2023: Bible Verse of the Day – Tuesday of the Holy Week: One of You Will Betray Me – John 13:21-38.
Let us Pray, Dear Lord, who suffered and was rejected, I love You deeply. However, I also acknowledge that my actions may cause pain to Your loving Heart.
Please assist me in recognizing my faults and shortcomings during this Holy Week.
By acknowledging them, may I let go of anything that hinders me from loving You more passionately, so that I may journey with You to the Cross and participate in Your glorious victory. Amen.
Bible Verse of the Day – Tuesday of Holy Week
21 Reclining at table with his disciples, Jesus was deeply troubled and testified, "Amen, amen, I say to you, one of you will betray me."
22 The disciples looked at one another, at a loss as to whom he meant.

John 13:21
Catholic Readings for Today
Bible Verse of the Day for April 4 2023 Reflections
In John 13:21-38, Jesus announces that one of his disciples will betray him. Jesus teaches that betrayal is a painful reality that can come from unexpected sources.
He acknowledges that one of his closest disciples will betray him, and this betrayal will lead to his arrest, trial, and crucifixion.
It's crucial to acknowledge that Jesus was "profoundly distressed" in this situation, which reveals His humanity. Jesus possessed a human heart and expressed a divine love for Judas through His human heart.
Jesus' distress stemmed from the fact that he had exhausted all efforts to change the mind and heart of Judas.
He was not personally offended or angry at Judas' betrayal, but rather deeply saddened by the loss of someone whom he loved with perfect love.
Jesus demonstrates his love for Judas, even knowing that he will betray him. He addresses him in a friendly manner and does not condemn him, but rather reminds him that he is loved and forgiven. This shows the depth of Jesus' love and forgiveness, even in the face of betrayal and suffering.
Judas exercised his free will in choosing to betray Jesus, which was a necessary component for him to love Jesus authentically.
This same principle applies to all of us; we possess free will and the ability to either accept or reject Jesus' love.
We can decide to allow His gracious gift of salvation into our lives, or we can choose to turn away from it. The decision is entirely up to us.
This Holy Week we are provided with a great opportunity to deeply reflect on the path we are currently following. Throughout our life, God extends an invitation to choose Him wholeheartedly and with great affection every single day.
Similar to Judas, we frequently betray God by rejecting the chance to join Jesus during Holy Week and accepting His Cross as our own.
We often fall short of dedicating our lives in a selfless and abundant manner, similar to how our Lord did during that Holy Week.
Take a moment to contemplate today about the profound love that Jesus held for Judas. It was not Judas' transgressions alone that caused Jesus so much anguish, but rather His unwavering love for him. If Jesus had not loved Judas, the betrayal would not have been as painful.
Additionally, take a moment to meditate on the love that Jesus has for you. Consider whether your actions have caused any distress in His heart.
Be truthful and avoid making excuses. If Jesus is troubled by any of your choices or actions, do not despair as Judas did.
There is still time to repent and turn towards the Lord. Allow His love and mercy to fill your heart and guide you towards righteousness.
Instead, let the realization of your imperfections and limitations bring you joy, knowing that you are aware of your weaknesses and sins.
Surrender these to Jesus, who loves you more than you love yourself. This act of surrendering will bring your heart much solace and tranquility, as well as provide comfort to the heart of our Lord.
He is eagerly waiting for you to come to Him this Holy Week, for He loves you deeply and unconditionally.
Bible Verse of the Day for April 4 2023 in Pictures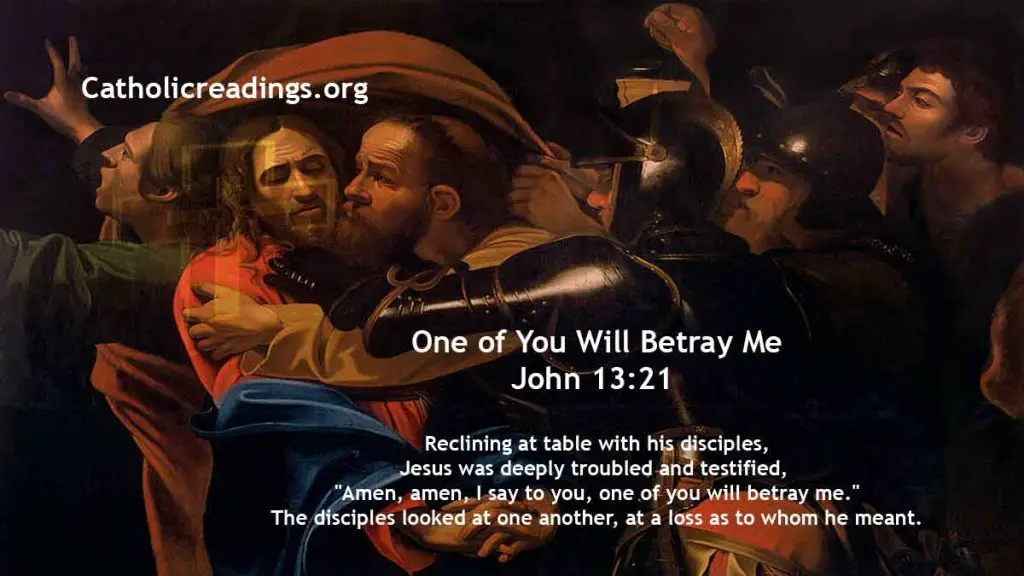 Related Links
Powered By SEO Experts
Follow @ReadingCatholic