Today is
Saturday, April 1, 2023
Pope Saint Gregory VII was also known as Ildebrando di Soana or Hildebrand of Soana. He was born in 1015 AD in Soana now in modern-day called Sovana, Italy. He died on May 25 1085 at Salerno, Italy of natural causes. He was the Pope of the Catholic Church between April 22 1073 and May 25 1085. Pope Gregory VII feast day is celebrated on May 25 every year in the Roman Catholic Church.
Pope Saint Gregory VII Biography

Date of Birth
1015 AD
Place of Birth
Soana now in modern-day called Sovana, Italy
Profession
Pope and Bishop of Rome
Place of Work
Rome, Italy
Date of Death
May 25 1085
Place of Death
Salerno, Italy
Feast Day
May 25
Beatification
1584 by Pope Gregory XIII
Canonization
May 24 1728 by Pope Benedict XIII
Patron Saint of

Diocese of Sovana
Other popes named Gregory
Pope Saint Gregory VII Early Life History
As a youth Hildebrand of Soana was sent to study at the monastery of St. Mary on the Aventine in Rome, where his uncle was abbot of a monastery on the Aventine Hill.
On May 22 1073 during the Feast of Pentecost, he was ordained as a priest. On June 29 1073, during the Feast of the Chair of St. Peter, he was consecrated a bishop and enthroned as pope.
He was a great reforming pope, and is known best for the part he played in the Investiture Controversy. This Investiture controversy involved the ability and process of choosing and installing bishops, abbots, and the pope himself. During his dispute with Emperor Henry IV the primacy of papal authority was affirmed and also the new canon law that governs the election of the pope by the College of Cardinals.
It is known that, before he became pope, Pope Saint Gregory VII fostered the relationship between the emperor and the papacy. He rigorously enforced the Church's policy of celibacy for the clergy and also condemned the practice of simony, which is the act of selling church offices and roles or sacred things.
Pope Gregory VII suspended all clerics who had attained their positions through simony. He also ordered the return of all property that had been purchased from the Church. Those corrupt clerics who were suspended rebelled against Pope Gregory and went to the fold of Emperor Henry IV who reinstated them.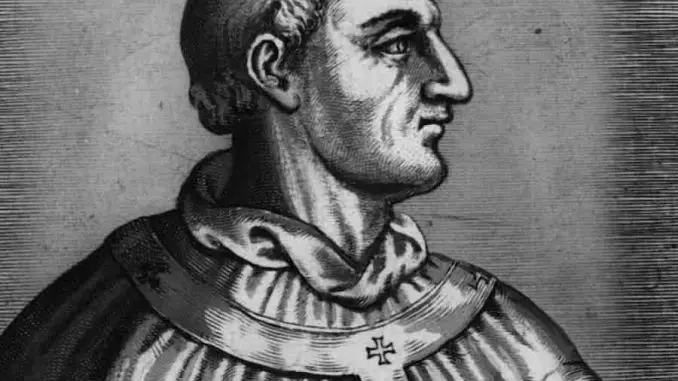 Pope Gregory VII excommunicated anyone who was involved in lay investiture, including Emperor Henry IV. He summoned Emperor Henry IV to Rome, but the emperor's supporters repelled Gregory and sent him into exile. After this Henry IV, in 1080 AD, appointed as pope, Guibert of Ravenna the archbishop of Ravenna, (he called himself pope Clement III) to oppose Pope Gregory VII in the political power struggles between the Catholic Church and his empire.
After Henry installed the anti-pope Guibert of Ravenna, Guibert was driven from Rome by Normans who supported Pope Gregory VII. These Normans went out of control such that the people of Rome, in retaliation, drove them out together with Pope Gregory.
Pope Gregory VII died on May 25 1085 at the age of 69-70 while in exile in Salerno, Duchy of Apulia
Pope Saint Gregory VII Birth
He was born in 1015 AD in Soana now in modern-day called Sovana, Italy with the name of Hildebrand of Soana
Pope Saint Gregory VII Death
Hildebrand died on May 25 1085 at the age of 69-70 while in exile in Salerno, Duchy of Apulia, Italy
Beatification
Gregory VII was beatified in 1584 by Pope Gregory XIII
Canonization
Through an equipollent canonization, Pope Gregory VII was canonized on May 24 1728 by Pope Benedict XIII
Feast Day
The feast day of Pope Saint Gregory VII is celebrated on May 25 of every year in the Roman Catholic Church
Venerated in
Pope Saint Gregory VII is venerated in the Roman Catholic Church
Attributes
Papal vestments
Papal tiara
Pope Saint Gregory VII is the Patron Saint of
Diocese of Sovana
Other popes named Gregory
Powered By SEO Experts
Follow @ReadingCatholic