Today is
Sunday, September 24, 2023
O Lord my God I come before You in prayer over my anxiety and panic attacks. I lay them at Your feet so that You can crash them to nothing.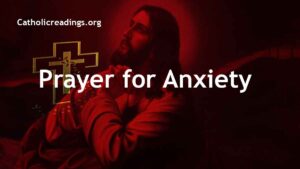 Dear Lord, when my worries, fears, and anxiety come crushing on me, remind me of Your abundant grace, mercy, mighty power, and abounding love.
Fill me with Your love and peace for it is only You that I trust. I know, dear Lord that I cannot overcome my anxiety on my own but with Your strength.
I know that I have You and that You are always with me everywhere I am and I know that when I remain in Your embrace, no weapon formed against me shall prosper. Thank you, Lord Jesus, for your love and providence. Amen.
A Prayer to Find Inner Peace and Remove Anxiety
Lord Jesus Christ, in Your awesome wonder, help me to find inner peace and get rid of this nagging anxiety that has engulfed me.
Help me to always want You, and you alone, especially now that I feel like I am drifting away from You. My heart feels weary, hollow, and rudderless. I know it is only You who can give me comfort, satisfaction, inner peace, and purpose.
Dear Lord Jesus, I know that I might be afraid of serving You in certain ways but please show me my purpose so that I can serve You according to Your Holy Will.
Salvage me from my want and need to achieve what I think I can be, and instead, surrender to what you purposed me to be.
Dear Jesus, give me today inner peace and satisfaction in serving, praising and glorifying You only all the days of my life. I pray all these through Jesus Christ our Lord and Saviour. Amen.
Powered By SEO Experts
Follow @ReadingCatholic