Today is
Wednesday, May 31, 2023
Family is the closest bond we have as human beings. As such it is always important to say a prayer for the family.
Family does not always mean blood relatives, it can also be an adoptive family that you share your life with.
We learn the importance of prayer by observing how our Heavenly Family, of Jesus, Mary and Joseph lived and how Jesus taught us how to pray.
We should make praying a priority, particularly for our family who are always there for us. Some prayers for family include:
Prayer for My Family
Oh Lord my God, I pray that You give me and my family an awesome life. I know that You created me and my family members to serve You. I, therefore, declare that as for me and my house, we're going to serve You Oh Lord.
I surrender myself to You dear Jesus and request that You convert my family to become a home where there is an abundance of peace, love, unity, harmony, prayer, and also fun. I wish to live in a family where we assist each other to grow physically, socially, mentally, economically, and most important spiritually.
I don't want my family to be ensnared by negativity, resentment, hatred, envy and all other evil things propagated by the evil one.
Dear Lord, help my family and home to be a place where every family member wishes to come to take shelter from the storm and turbulence of worldly struggles.
Dear Jesus, help our children to learn to serve You by showing generosity to others and ultimately to You my God. May all of us replicate to our friends and neighbours, the good deeds we do to each other in the family.
Guide, guard, Protect and govern my family so that we remain on the right path which is Your Way. May the evil one never find a chance in my family to ruin the good life that You have prepared for us. In the name of Jesus Christ, I pray and believe. Amen.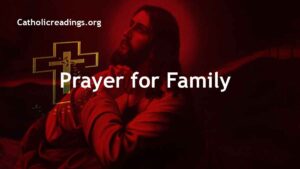 Christmas Prayer for Family
Almighty Lord, as we gather together with our loved ones on this joyous Christmas occasion, we give thanks for the blessings of family.
We thank you for the love and support that we share, and the memories we have created together.
We ask that you bless our family and keep us close to each other and to you. May your peace and joy fill our hearts and our home. May we continue to grow in love and understanding for one another.
Thank you for the gift of your son, Jesus, who brings hope and salvation to the world. May we follow his example of selflessness and love, and share his light with those around us. Amen.
Thanksgiving Prayer for Family
Dear God, We come before you today with grateful hearts, thanking you for all of the blessings you have bestowed upon us.
We are thankful for the love and support of our family, and for the roof over our heads and the food on our table.
We are also thankful for the many opportunities and experiences that have enriched our lives. We ask that you continue to watch over and protect us, and guide us on the path that you have set before us.
May this Thanksgiving be a time of joy, gratitude, and togetherness for our family. May we always remember to count our blessings and to share them with others.
Thank you for your endless love and grace. Amen.
Prayer for Family and Friends
Oh Lord, my God, I entrust all my loved ones into your loving hands, and I ask that you watch over and guide them every day.
Please lead them at every point of their need, and may all their hearts' desires be fulfilled according to your will. Keep them safe, O Lord, and grant them good health throughout their lives.
Heavenly Father, I pray for the safety of my family and friends. Protect them from all harm, and shield them from anything that may cause them pain or suffering.
I pray that I will not receive any bad news about them, and that they will live long and fruitful lives.
Lord, I also ask that you touch the hearts of those who have not yet received you into their lives. Please reveal yourself to them and help them to understand that you are the true Savior.
Fill their hearts with joy and the love of Christ, and may they experience the salvation that only comes through your son Jesus Christ. Amen.
Prayer for Family Unity
"Blessed God, aid my family members to have peace and unity with each other. Lord, please help each of my family members accept and practice the core values of our family for the betterment of us all. Father, please Let everybody feel loved and respected in the family. Let us be dedicated to the good of one another at all times. Dear Lord, let us not hold on to anger in our hearts for it will lead to resentment, bitterness and even hatred. Teach us Father, how to solve our conflicts openly, honestly and promptly. Lord, please help us to be humble enough to admit our failures and to seek forgiveness, love and peace when we have done wrong to others. Dear Lord, please help each of us to find peace so as to maintain the unity of the family. In the Name of Jesus, Amen."
Prayer for Family Protection
"Blessed and Immaculate Virgin, our Queen and Mother, shelter and consolation of all those who are in misery. I bow before Your throne with all my family, I choose You for my Lady, Mother, and Advocate with God.
I, together with all who belong to me. Dedicate myself forever to Your service, and pray to You, oh Mother of God, to accept us into the number of Your servants. Take us all under Your protection, helping us in life, and still more, even at the hour of our death.
Heavenly Mother of Mercy, I choose You. Mother and ruler of my whole house, of my relatives, my interests, and all my affairs. Do not tire of taking care of them; dispose of them all that is not pleasing to You.
Blessed Mother, bless me then, and all my family, and do not allow that any of us should offend Your Son. Holy Mother, You guard us in temptations, deliver us from dangers. Provide for us in our necessities, guide us in our doubts, console us in our problems. Be with us in sickness, and especially in the agonies of death.
Do not let the devil to attain glory in having in his chains in any of us who are now consecrated to You; but give that we may come to You in heaven to thank You, and together with you to praise and love our Redeemer Jesus for all eternity. Amen, thus may it be."
Prayer for Peace in the Family
Loving God, we turn to you with open hearts, seeking the peace that surpasses all understanding to fill our family.
As your Word instructs us, we come to you with prayer and supplication, giving thanks for all that you have done for us.
We believe that you dwell in a place of holiness, and we approach you with humility, asking that you be the leader of our family.
We trust in your promise that when two or more are gathered in your name, you will answer our prayers. We ask that you bless us with abundance and joy, and guide us in all that we do.
We give thanks for your boundless riches and righteousness, and we pray that your name may be glorified in our family forevermore. Amen.
Morning Prayer for Family
"Merciful Lord thank you for allowing us to come before you this morning as we listen to you and seek for your divine leadership. Father, thank you for your love and care and thank you for watching us through the night. We feel happy and are very happy for enabling us to see another day in our lives. Father, as we set out to go and accomplish the work that you have blessed our hands with. We want to raise up the name of Jesus Christ and honor you for the grace. Guard each and every one of us present here and protect our family from any manner of evil upon our lives. Thank you Lord, for your faithfulness because your promises never fails. Stay by us during this day until we meet in the afternoon through the name of our Lord Jesus. We have prayed and believed. Amen."
Prayer for Family Strength
Blessed Father,
Our family is in need of Your help today. We need Your peace, calm and an end to the discord. Please shower Your spirit upon us and continue to show us that peace is an realization that can only come through complete love, Christ's love. As we lift our family troubles to You, I ask that You please replace our disunity with hope, compassion, and an abundance of blessings.
Father, grant us strength and compassion to understand one another. Wisdom and love to help each other, and the trust and patience we need to live in peace together. Father please show us how to become a holy family. A family that works together as one. Be a family that embraces peace and love. A family whose members are dedicated to each other and to You. Through the Holy Spirit, Father, please comfort us and shine Your light as You lovingly guide us and our family through this season. In Jesus' precious and mighty name. Amen."
Prayer for Family Reunion
"Loving Father,
I want to thank you for allowing us to be together today to start our much needed family reunion. Lord, we asked to be brought closer to one another and it was thanks to you that we found the power and resources to put this family reunion together. Father, we pray that you shine your light onto the family while we rejoice in you, Father, and we thank you for leading us all here safely, and for making all this possible. Without your power Lord, our family would not exist, this reunion would not be possible, and these feelings of sheer joy would not be felt.
In Your name, we pray. Amen."
Evening Prayer for Family
"Loving God, as I lay down to go to bed, I let go the stress and tension in my body. Calm my thoughts and remove all restlessness.
Dear Father, as I end this day, I praise You for all the blessings in my life, family, friends, love, hope, and a secure future. I thank You for Your help in my life, and I pray that You grant me wisdom and courage to deal with everything that comes my way tomorrow.
Lord, help me to trust You with my life. Lead my steps and let me walk in Your ways. Dear Father, continue communicating with me every moment of everyday. Teach me to know the perfect peace that only You can provide.
Father, above everything, protect my mind and actions so that the enemy might not get through to me. God, I pray and ask that You give me the wisdom to deal with my problems.
Light my path way through the dark tunnel. Grant me restful sleep tonight, in Jesus Name. Amen."
Prayer for the Church Family
"Loving Father, we thank You for our Church Family. Thank You for letting each of us serve Your Kingdom through this wonderful church. Lord, thank You for using our individual gifts and talents to create Your Kingdom here on earth as it already is in heaven. Lord, we are grateful for the freedom to worship You, our God. Thank You for Your infinite blessings. Thank You for increasing Your presence, power, blessings, and abundance in our Church Family.
Almighty Father, we affirm that we will love You with all our hearts, souls, minds and strength. As a Church Family, we pray that we will love one another, as ourselves. Lord, as Your children, we confess that we have all put on Christ, like donning on new clothes and we will walk in unity and love with one another. It is because of this love that we show for each other that people will know that we are Your disciples. Your Word tells us that if we love You, we must also love our Christian brothers and sisters, too.
Lord, therefore, we promise that we will not look out only for our own interests, but we take an interest in one another's needs. Father, we declare that we will live in harmony with each other and resist division. Lord, we will be of one mind, united in thought and purpose. Also we declare that as a Church Family we will turn away from the path of evil, and do good; we will search for peace and work to keep it. We confess that we will encourage and build each other up. Above all things, we proclaim that we will put on love which is the bond of perfection. Amen."
Daily Prayer for Family
"Loving Father,
Please shine your light upon my family.
Give us strength to go through all of the
difficulties that we are dealing with now
and guard us against any and all problems
we may come across in the future.
Loving Father, please bring us together as we
are meant to be. May the love that joins
us only grow stronger as we fulfill the destiny
you have placed before us.
Grant my family forgiveness for any trespasses we
have committed. May we also forgive one
another Lord, as it is sometimes difficult to do.
Bless us God,
In your name I pray, Amen."
Prayer for Family Health
"Dear Lord Jesus, thank you that you love [name of person who needs healing]. I know that you do not like what their illness is doing to them/me. I ask, in the Name of Jesus, that you would cure this disease, that you would have compassion and bring healing from all sickness.
Father, your word says in Psalm 107:19-20 that when we call out to you the Almighty one you will give the order, heal and save us from certain death. In the Bible, I have read of your amazing healing and I believe that you still heal the same way to this day. I know that there is no sickness you cannot heal after all the bible tells of you raising people from the dead. So I ask for your healing in this situation.
Father, I also know from my experience in life on earth that not everyone gets healed. If that happens here then keep my heart soft towards you, help me to see your plan and help me to be excited about heaven.
Loving Jesus, thank you that our hope for a cure is in you. If there are doctors or treatments that you would want to use to heal this disease I beg that you would lead [name of person who needs healing] to them. I ask for wisdom and discernment about which treatments to go after.
Caring God, I praise you that [name of person who needs healing] belongs to you and that you are in command of everything that happens from our first breath to our last sigh.
Amen."
Prayer After Family Loss
"Loving Father, I pray for (name one or more) and others in my circle of family and friends who are bereaved.
They are in pain for many reasons, and I ask You to assist them through this season of loss. Lord, I reach out to You, the Father of sympathy and the Source of every comfort, asking You to touch them with Your never ending love and kindness. Be their God who comforts them as they're going through their problems, and bring them through the tough things ahead. Come besides them in their pain, and strengthen them so they'll one day be able to help others who face the same problems. (2 Corinthians 1:3–4; Psalm 33:22; 1 Samuel 20:14a)
Father, You're close to people whose hearts are breaking, those who are discouraged and have lost all hope. May You who sees their troubles and grief help when they cry out. (Psalm 34:18; 10:14a, 17)
When they are in pain, help them find their joy in You, for it's Your joy that will be their strength. Father, Help them to trust You as their Lord of hope. Fill them with Your joy, peace, and hope through the power of the Holy Spirit. Help them experience the love, joy, and peace that are the results of His life in them, no matter what they're going through. (Nehemiah 8:10b; Romans 15:13; Galatians 5:22)
May they sense Your presence in this hour of need. In Jesus' name, Amen."
Prayer for Family Salvation
"Heavenly Father, we know in accordance to Your Word that You want everyone to be saved and understand the truth. We confess that if families openly accept that Jesus is Lord and have faith in their hearts that You raised Him from the dead, they will be saved. When they do, as Your Word assures us, they will not perish but have everlasting life. They will have the honor to become Your children. They will view themselves as Your masterpieces, created anew in Christ Jesus so that they can do the good things You have planned for them.
Lord, our families will reveal the good news that You save, publish Your glorious deeds among the nations and tell everyone about the miraculous things You do. We declare that they will worship Christ as Lord of their lives. Also if someone asks about their hope as believers, they will always be ready to explain in a gentle and respectful way. Lord, we confess that families will never stop praying and being thankful in all circumstances, for this is Your will for those who belong to Christ Jesus. Amen."
Related Links
Powered By SEO Experts
Follow @ReadingCatholic