Today is
Friday, September 29, 2023
We have different versions of the Act of Contrition, which is a Prayer for Repentance. All the versions generally express sorrow, acknowledge wrongdoing and promise to avoid sin and amend one's life.
Act of Contrition (Old Version)
O my God, I am heartily sorry for having offended Thee, and I detest all my sins because of thy just punishments, but most of all because they offend Thee, my God, who art all good and deserving of all my love. I firmly resolve with the help of Thy grace to sin no more and to avoid the near occasion of sin. Amen.
Act of Contrition (New Version)
My God, I am sorry for my sins with all my heart. In choosing to do wrong and failing to do good, I have sinned against you whom I should love above all things. I firmly intend, with your help, to do penance, to sin no more, and to avoid whatever leads me to sin. Our Savior Jesus Christ suffered and died for us. In his name, my God, have mercy.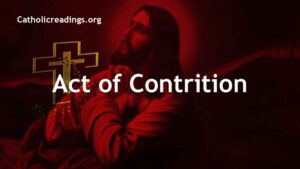 Prayer for Repentance
O Lord Jesus Christ, You encourage us to repent our sins, mend our ways and return back to God's fold. We pray that You accept our sincere repentance from our humble and contrite hearts. Make, Mould and fashion our hearts to a form that will never grossly sin against You.
We sincerely repent our sins and we pray that on the last day, You will judge us with a merciful heart.
We also pray that all the nations of this world repent their sins, mend their evil ways and return to You for all Glory and Honour is to You Almighty Father, who lives and reigns forever and ever. Amen.
Powered By SEO Experts
Follow @ReadingCatholic