Today is
Saturday, March 25, 2023
We humbly pray and ask You, O Lord, to show Your mercy to the souls in purgatory who are suffering. Please do not hold their past offenses and negligence against them, but instead remember Your boundless and eternal love for them.
Cleanse them of their sins and grant them their deepest desires so that they may be deemed worthy to behold Your divine presence in all its glory.
We pray that they may soon join You in heaven and hear Your blessed invitation: "Come, you who are blessed by My Father, inherit the kingdom prepared for you from the foundation of the world." Amen.
Prayer for the Holy Souls in Purgatory by St Gertrude the Great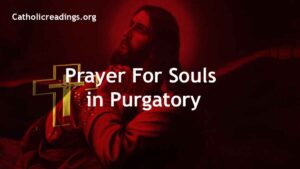 Dear Heavenly Father, I present to you the invaluable blood of your divine son, Jesus, as a gesture of unity with all the masses being offered across the globe today.
I pray that this offering be directed towards the Holy souls who are still in purgatory, as well as sinners everywhere, including those within the universal church and my own family. Amen.
Eternal rest grant unto [mention name], O Lord; And let perpetual light shine upon him/her. May [name] rest in peace. Amen.
Powered By SEO Experts
Follow @ReadingCatholic