Today is
Saturday, March 25, 2023
Praying for success is a powerful way to request God's assistance, as it allows us to communicate our needs and desires to our Heavenly Father.
Achieving anything in life requires hard work, but it is essential to recognize that success is ultimately possible with the help of God.
Through prayer, we can seek guidance and support from God, who is always ready and willing to help us achieve our goals. Therefore, we should not underestimate the power of prayer in our quest for success.
Some great prayers to do this include:
Prayer for Success at Work
Dear Lord, I want to express my gratitude for the way you have created me and for the many talents and gifts that you have bestowed upon me.
I am grateful for the people I work with, even those I may not like or understand. I trust that I am the best candidate for this job and I pray that my focus would be on achieving the goals you have set for me in this position.
Please grant me wisdom and discernment, especially when I encounter a hostile work environment. Help me to learn the lessons you have for me in this job, and give me the patience to wait for the future you have planned for me.
Father, I ask that you help me to always do my best and to remain positive and hopeful. Please fill me with your peace, and help me to trust you completely in my job.
Clothe me with the garments of praise and the righteousness of Christ, so that I may bring glory to your name in my workplace.
Lord, please reveal my true identity, help me to walk in your favor, and to aim to please you above all else. Where there is conflict, help me to be a peacemaker.
Where there are lies, help me to speak the truth. Father, where there is despair, let me bring hope. Where there is fear, let me bring faith.
Lord, where there is darkness, let me bring light, and where there is sadness, let me bring joy. All of these things I ask in the name of Jesus. Amen.
Prayer for Success in Business
Dear Heavenly Father, I come before you with a heart full of gratitude for the business you have entrusted to me.
You know that it is my passion and I ask that you help me to run it in a way that is efficient and Godly. I pray that you grant me wisdom and guidance as I navigate the changes that are ahead.
When I am unsure of what to do next, please speak to me and provide me with comfort when I encounter obstacles. I ask that you help me to hear your voice clearly and follow your lead.
Father, I also ask that you help me to serve my customers and clients with a heart that reflects yours. I want everyone who interacts with my business to see your light shining through me.
Please give me the strength to stand by my faith and values, even if it means facing controversy. I trust in your love and guidance, and I know that you will help me to remain firm in you.
I pray all of this in the powerful name of Jesus. Amen.
Prayer for Exam Success
Heavenly Father, I come before you as I prepare to face the anxiety and stresses of exams. I know that only your peace can bring me through this difficult time. Your peace surpasses all understanding, and I pray for this gift as I lean on you at this moment.
Father, I ask that you remind me of your eternal love. Help me to remember that you hold me safe, you understand me, and you cherish me.
I give you my fears and lay them down before you. I place them at the foot of the cross, knowing that you have already overcome the world.
I choose to surrender all my concerns, worries, and fears of failure to you. I trust that your loving hand will hold me through these exams and lead me into a bright future. Thank you for being my source of strength and comfort in times of need. In Jesus' name, I pray. Amen.
Prayer for Success in Life
Heavenly Father, we come before you with grateful hearts, thanking you for the gift of life you have given us. We ask that you bless our lives with success and prosperity, as we trust in you to guide us on the path that you have set before us.
Lord, we know that you desire for us to live abundant lives, and we ask that you grant us this blessing. Help us to grow and expand in all aspects of our lives, so that we may reach our fullest potential and fulfill your purpose for our lives.
We pray that our lives will be pleasing to you in all things, and that we may always seek to honor you with the work of our hands. May we always walk in obedience to your will and follow the leading of your Holy Spirit.
Thank you, Father, for your abundant blessings both in this life and in the life to come. We trust in your goodness and mercy, and we ask all these things in the precious name of Jesus. Amen.
Prayer for Victory and Success
Dear Heavenly Father, we express our gratitude to You. We acknowledge that through our Lord Jesus Christ, You have given us a triumph over all the schemes and strategies of the enemy, who aims to undermine our faith and hinder our effectiveness as soldiers of the cross.
We thank You, Lord, for making us more than conquerors in all things, recognizing that victory over spiritual evil was achieved through the cross.
Nevertheless, we must be prudent and discerning, aware that the enemy is like a lion, seeking to devour us.
Lord, please guide me to withstand the devil and his evil designs at all times. I understand that as a child of God who has been redeemed by the blood of Jesus, the enemy will flee from me.
However, I am aware that he employs various tactics and disguises to trip us up and render our faith fruitless and unproductive.
Therefore, I pray for humility and the ability to hear Your voice, knowing that the weapons we use to fight against the enemy are not physical, but spiritual, enabling us to tear down the strongholds of Satan in our lives that hinder our relationship with You, our Heavenly Father.
In all things, I pray that You would reign and rule in my life, so that I may live for Your praise and glory until the end of my days. I ask this in the name of Jesus, Amen.
Catholic Prayer for Success
Dear St. Joseph, who is a role model for those who are dedicated to their work, please grant me the grace to work diligently, putting my sense of duty above my many faults.
Help me to work with gratitude and happiness, recognizing it as an opportunity to utilize and develop the gifts that God has bestowed upon me.
Guide me to work with order, peace, prudence, and patience, without being discouraged by difficulties or fatigue.
Above all, inspire me to work with a pure heart, selflessness, and with death always before me, knowing that I will have to account for time lost, talents wasted, and opportunities missed, avoiding any complacency in success which can be detrimental to the work of God.
I dedicate my work to Jesus and Mary, following your example, dear St. Joseph. This shall be my motto in life and death. Amen.
Prayer for Academic Success
Dear loving Father, Our Lord, we acknowledge that every good and perfect gift comes from You (James 1:17).
Like You gave knowledge and skill to Daniel, we pray that You bestow upon us the wisdom and ability to stand out among our peers. You commanded in Deuteronomy 28:13 that we should be the head and not the tail, above only and never beneath.
Blessed Holy Spirit, You are our Helper and Instructor. We ask for Your guidance and understanding, and that You bless our memories so we may retain all that we have been taught and learned. We ask for Your assistance in excelling in all our endeavors.
Loving Lord, we pray that You open the gates of success for us and that the banner of success be raised in our lives in the name of Jesus. Amen.
Prayer for Event Success
Dear Almighty Father, we come before You in gratitude and praise for gathering us together in this important event.
We ask for Your guidance and blessings upon us so that we may appreciate and cherish the significance of this occasion in our lives.
We pray that You bless everyone present today and enable us to share our gifts and talents for Your glory and honor.
We also ask that You watch over and protect our loved ones who are not with us today, granting them good health and safety. May Your peace and goodwill extend to all men.
We humbly ask that all the activities related to this event be successful through Your intervention. We trust that You will make everything work together for our good. We offer this prayer in Your name. Amen.
Prayer for Project Success
Dear loving Lord, I come before You with a heart full of gratitude for the gifts and blessings You have bestowed upon me.
I have poured my time, effort, and resources into a project with honest finances and noble intentions, just as You have made sacrifices for our sake.
Lord, I pray that You intercede on my behalf and bless me with a just reward for my labor. I trust in Your goodness and ask that You guide me in all my endeavors.
Through Jesus Christ, from whom all good things come, I pray for Your guidance and blessings. Amen.
Prayer for Sales Success
Heavenly Father, we give You thanks and praise for this day and for all the blessings that You have bestowed upon us. We are grateful for Your unfailing love and kindness that You show us each day.
Lord, we pray that You would guide us and place us in front of those whom You wish for us to help. We are ready and willing to do Your will and to be Your hands and feet to those in need.
Father, we pray that You would give us the strength to overcome any adversity that we may face, and the wisdom to know how best to serve and help others. Grant us the words to say and the patience to listen, so that we may be effective in sharing Your love and grace with those around us.
We ask that You would use us as tools for Your benefit, to reach those who need Your help and guidance. Help us to be strong and courageous in the face of opposition, and to trust in Your power and provision.
Lord, we believe that You have put us in our roles for a reason, and we pray that You would help us to see that reason clearly, and to use our talents and abilities to help others help themselves.
We pray all of these things in the mighty name of Jesus Christ, our Lord and Savior. Amen.
Prayer for Success in School
Heavenly Father, I join in this prayer for the academic success and spiritual growth of these children. Lord, I ask that You help them to develop a passion for learning and a desire to excel in their studies.
May they be focused and disciplined in their approach to learning, and may they have the patience and perseverance to work through any challenges they may face.
Father, I also pray that You grant them wisdom beyond their years. May they be filled with Your Spirit and guided by Your Word.
Help them to see the world through Your eyes and to understand the value of righteousness and goodness. May they grow in their knowledge of You and develop a deep and personal relationship with You.
Lord, I pray that You bless these children with the support and encouragement they need to succeed. May their teachers and mentors be wise and compassionate, and may they be surrounded by positive influences that help them to grow and thrive.
Most of all, may they always know the love and support of their family and community, and may they always feel Your presence in their lives.
We trust in Your loving care for these children, Lord, and we ask that You bless them in every way. We ask this in the name of Jesus Christ, our Lord and Savior. Amen.
Morning Prayer for Success
Dear Heavenly Father, this morning, I wholeheartedly welcome prosperity, abundance, success, and well-being into my life.
I pray to you to bless me with perfect health, wealth, love, happiness, joy, clarity, and peace. I believe in your power and declare these blessings to come into existence in my life.
I speak these words this morning in faith and call upon them in the mighty name of Jesus. I trust that victory, success, and prosperity are already flowing towards me.
As the earth and all its inhabitants belong to you, my loving Father, I thank you for providing these blessings in my life. In Jesus' name. Amen.
Miracle Prayer for Success
Dear Lord, I express my gratitude to you for this new day, which I believe will be filled with opportunities for my dreams to flourish, my plans to succeed, my destiny to be secured, and the desires of my heart to be granted in the name of Jesus.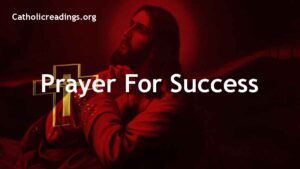 Lord, I trust in your provision and declare that the money I need will come to me before the end of this month. As I begin this day, I pray that my life will be pure, calm, and as clear as the morning dew.
May your grace, Heavenly Father, be my source of support and sustenance, meeting all my needs according to your riches in glory. Amen.
Short Prayer for Success
Dear Loving Father, I acknowledge that Your Word is a guide and source of illumination in my life, shining light on my path and directing me towards righteousness.
I trust in the truth of Your Word, which remains active and continually works within me to transform me both day and night.
At Your command, I will faithfully obey and follow Your direction. I am grateful that Your Word is renewing and purifying my mind, setting my focus on Your power and compassion.
Through Christ, who strengthens me, I am capable of achieving all things. Thank You for Your unwavering presence and guidance in my life. Amen.
Prayer for Success in Court
Dear Lord, I humbly come to you for help as I face this legal battle. I am grateful for your constant presence and strength during this time of distress.
I surrender my heart to the Holy Spirit, asking for your forgiveness and guidance if I have wronged anyone in this matter. Please deliver me from hate and revenge, and help me to show compassion and forgiveness.
In the powerful name of Jesus, I pray for truth to prevail and that you will protect me from false accusations and deceitful tongues.
I trust that no weapon formed against me shall prosper, and any unjust tongue raised against me will be silenced.
I seek refuge in your secret place, which shields me from the conflict of tongues. Please stop any false witnesses who speak against me and let them be caught in their own trap. Give me the words to say when I need them.
Father, I choose to reject fear and negative thoughts that try to exalt themselves above your love and knowledge.
In the name of Jesus, I give you the care of this court case, and I trust that you will bring peace and calmness to my heart. I believe that your favor and the favor of man will surround me like a shield, and I will succeed in facing this trial.
Your word says that you will perfect everything that concerns me. Therefore, I receive your perfected end and give you all the glory for all that will be accomplished. I testify of your goodness and love. Amen.
Powered By SEO Experts
Follow @ReadingCatholic