Today is
Sunday, September 24, 2023
Lord Jesus Christ, I offer You my humble prayer that You help me identify the talent You have given me.
Lord, I want to utilize my God-given talent to accomplish the work that You have assigned me, which is being of service to other God's creations.
Dear Lord, inspire me to identify what are my passions, hobbies, skills, knowledge, and expertise so that with Your help, guidance, protection and governance, I may serve other people and also inspire others to make good use of their talents. Amen.
Prayer for Talents
Dear Heavenly Father, I thank you for your abundant generosity and for all the talents you have bestowed upon me.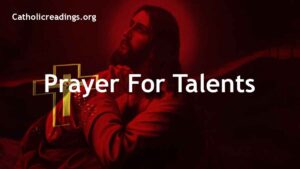 May I always use them in a way that honors you and brings glory to your name. Help me to be a faithful steward of my time, talents, and resources, using them for the benefit of others and for the building up of your kingdom of justice and peace.
Guide me in recognizing new talents within myself and grant me the wisdom and perseverance to develop them.
May I always pursue my talents with diligence and excellence, striving to create prosperity not just for myself, but for the betterment of society as a whole.
Let my talents be used to bring hope and encouragement to those around me, and to spread your love and grace throughout the world.
Thank you for entrusting me with these gifts, and may I always use them to serve your purposes and to bring you honor and praise. In Jesus' name, I pray. Amen.
Powered By SEO Experts
Follow @ReadingCatholic