Today is
Sunday, June 4, 2023
May 28 2023: Bible Verse of the Day – Pentecost Sunday – Receive the Holy Spirit – John 20:19-23
21 Jesus said to them again, "Peace be with you. As the Father has sent me, so I send you."
22 And when he had said this, he breathed on them and said to them, "Receive the Holy Spirit.
23 Whose sins you forgive are forgiven them,
and whose sins you retain are retained."

John 20:19-23
Catholic Readings For Today
Pentecost Sunday at the Vigil Mass
Pentecost Sunday Extended Vigil
Bible Verse of the Day for May 28 2023, Pentecost Sunday Reflections
Today is Pentecost Sunday. This is the day that God sent to us a helper after Jesus returned to our Heavenly Father. The helper is the Holy Spirit.
The Holy Spirit is our advocate in all our times of hardships and comfort. He will keep reminding us of everything that Jesus taught us while He was here on earth. He will also be providing good counsel always when we fall into temptations.
Jesus, today, is sending the Holy Spirit to us and at the same time sending us forth to the world to proclaim the Good News.
He knows that it will not be an easy task to proclaim the Gospel to the world. The world is full of evil and persecutions. The Holy Spirit will be with us to strengthen our faith and hope when face turbulence from the evil one.
Our clergy are today being given the powers to help us in penance. Jesus has advanced the powers of absolution to our Bishops and Priests.
Let us seize this golden opportunity and always go to confession as often as possible without fear of being scorned by Non-Catholics.
Prayer: Come, Holy Spirit, Father of the poor!
Come, source of all our store!
Come, within our bosoms shine.
You, of comforters the best;
You, the soul's most welcome guest. Amen.
Bible Verse of the Day in Pictures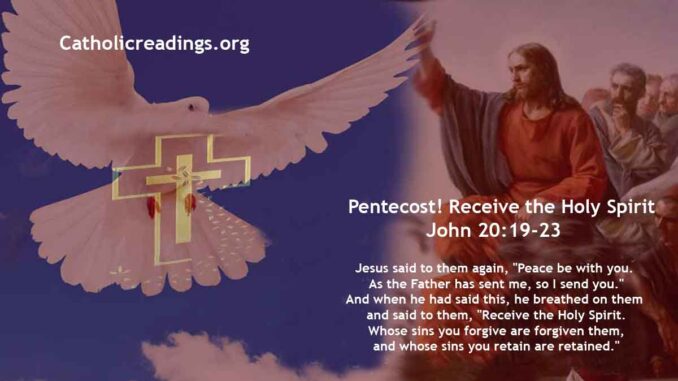 Related Links
Powered By SEO Experts
Follow @ReadingCatholic