Today is
Saturday, March 25, 2023
St Epiphanius, Bishop of Constantia (Salamis) in Cyprus was also known as Oracle of Palestine. He was born in 315 AD in Besanduk, near Eleutheropolis, Palestine and died in 403 AD at sea en route to Cyprus. We celebrate his feast day on May 12 every year in the Catholic Church.
The Memorial of St. Epiphanius of Salamis – Feast Day

St Epiphanius of Salamis Biography

Date of Birth
315 AD
Place of Birth
Besanduk, near Eleutheropolis, Palestine
Matrimony/Holy Orders
Bishop
Profession
Bishop
Place of Work
Cyprus
Date of Death
403 AD
Place of Death
At sea en route to Cyprus
Feast Day
May 12
Canonization
Pre-Congregation
Saint's Biography
Saint Epiphanius of Salamis was born in Besanduk, near Eleutheropolis, Judea in Palestine. He came from a Hellenized Jewish family. Epiphanius became a Christian after seeing how a monk (Lucian) gave away his clothes to a poor person. He became a 26-year-old monk in the Holy's monastery Hilarion in the desert south of Gaza.
Epiphanius returned to Palestine in the year 333, where he became a priest and founded a monastery at Eleutheropolis, which he led for thirty years. He became an expert in the languages ​​needed to understand Scripture and spoke five languages ​​fluently (Hebrew, Egyptian (Coptic), Syrian, Greek and Latin).
Epiphanius's reputation for learning made him, in 367, elected bishop of Salamis (formerly known as Constantia) while remaining in his monastery. His reputation was so great that he was one of the few orthodox bishops who was not harassed by the Arian emperor Valens. He died in 403 at sea of natural causes.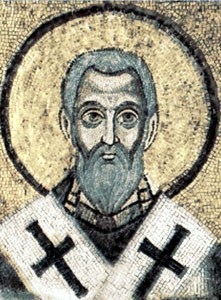 Powered By SEO Experts
Follow @ReadingCatholic