Today is
Tuesday, November 28, 2023
St Junipero Serra y Ferrer OFM was born with the name Miguel Jose Serra Ferrer on November 24 1713 in Petra, Mallorca (Majorca), Spain.
He was a Roman Catholic priest and friar of the Order of Friars Minor.
He died on August 28 1784 at Mission San Carlos Borromeo de Carmelo, (Mission Carmel), California, New Spain [now in the U.S.].
His feast day is celebrated on July 1 in the United States and August 28 in the rest of the world.
Saint Junipero Serra Biography

St Junipero Serra – Feast Day – July 1 2023

Date of Birth
November 24 1713
Place of Birth
Petra, Majorca, Spain
Profession
Missionary Priest of the Franciscan Order
Place of Work

Vera Cruz, Mexico, College of San Fernando, San Diego – July 16, 1769;
San Carlos, Monterey -Carmel, June 3, 1770;
San Antonio, July 14, 1771;
San Gabriel, September 8, 1771;
San Luis Obispo, September 1, 1772,
San Francisco, October 9, 1776;
San Juan Capistrano, November 1, 1776;
Santa Clara, January 12, 1777; 
San Buenaventura, March 31, 1782

Date of Death
August 28 1784
Place of Death
Mission San Carlos Borromeo de Carmelo, (Mission Carmel), California, New Spain [now in the U.S.]
Feast Day
Beatification
By Pope John Paul II on September 25 1988 in Saint Peter's Square, Vatican City
Canonization
By Pope Francis on September 23 2015, at the Basilica of the National Shrine of the Immaculate Conception, Washington, D.C.
Patron Saint of

Vocations
Hispanic Americans
California
Saint Junipero Serra Life History
St Junipero Serra birth name was Miquel Jose Serra y Ferrer. His father was Antonio Nadal Serra and his mother was Margarita Rosa Ferrer.
In his early years, Miquel helped his parents to tend to the cattle and cultivate wheat and beans. He also liked visiting the Church of San Bernardino where the local Franciscan friary lived.
He attended primary school at the church where he perfected singing. On September 14 1730, when he was 16 years old, Miquel enrolled in a Franciscan school in Palma de Majorca, studied philosophy, and thereafter, joined the Franciscan order, specifically, the Alcantarine branch of the Friars Minor
Here, in honor of Brother Juniper, he was given the name Junipero. He vowed to remain celibate and to avoid wealth and comfort.
He majorly studied theology, logic, cosmology, and metaphysics as he progressed with his priestly studies.
He took a keen interest in reading stories of how the Franciscan friars were going around Spain and the rest of the world preaching the Gospel and converting the souls to Christ.
He was also fascinated by how, after they suffered martyrdom for the sake of Christ, several would be beatified and canonized.
Saint Junipero Serra was ordained as a priest in 1737. In 1740, he began teaching philosophy at the Convento de San Francisco where he met Francisco Palou and Juan Crespi who were his students. To his students, he requested one thing from them,
"I desire nothing more from you than this, that when the news of my death shall have reached your ears, I ask you to say for the benefit of my soul: 'May he rest in peace.' Nor shall I omit to do the same for you so that all of us will attain the goal for which we have been created."

Saint Junipero Serra to his students
Junipero graduated with a doctorate in theology from the Lullian College in Palma de Majorca.
Arrival in Mexico
In 1748, Junipero and Palou felt the desire to become missionaries and discussed it. Despite the assurance of a fulfilling career as a priest and scholar if he stayed in Majorca, Junipero still felt the desire to proclaim the Word of God to the un-evangelized world.
He and Palou received the go-ahead to go to the port city of Cadiz in southwestern Spain en route to the Americas.
In 1749, Junipero Serra together with the Franciscan missionary entourage reached Veracruz, on the coast of Mexico.
From Veracruz to Mexico City, the missionaries took the 'Camino Real' or royal path, a road that was rough and full of hardships.
Despite being offered to ride on horses, Junipero Serra and one other friar from Andalusia, insisted on traveling on foot as was the rule of his patron saint Francis of Assisi that friars "must not ride on horseback unless compelled by manifest necessity or infirmity." The duo walked all the way to New Mexico only receiving supplies from the locals along the way.
During that trek, Junipero Serra developed a swollen foot which developed into a wound due to the walking. This wound tormented him for the rest of his life.
Upon reaching Mexico City, in 1749, Serra joined the missionary college of San Fernando de Mexico, a regional headquarters for Franciscan missionaries and a training center.
Sierra Gorda
Jalpan de Serra is a town in Jalpan de Serra Municipality located in the north of the state of Querétaro, Mexico. It is located in the heart of an important ecological zone called the Sierra Gorda
Serra and Palou went to evangelize in the village of Jalpan located in the north of Querétaro, Mexico in a zone called the Sierra Gorda.
There was complete disorder and the mission was in disarray. Serra dealt with administration, reordered the mission, and started organized agriculture while Palou supervised the farm labour and saw women learn knitting, sewing, and spinning.
Their produce was given to the mission residents, according to each person's needs. The surplus was sold in nearby trading centers. Those who had embraced the mission life were given their own parcels of land to grow pumpkins, beans and raise corn.
Around 1743, there was an invasion by Spanish soldiers and settlers in Sierra Gorda who secured the region for the Spanish crown.
The problem was the Spanish/Mexican soldiers and their families laid claim on the land that the mission and Christians there were working on.
When the soldiers and their families tried to establish a town in Sierra Gorda, the colonial officer in charge approved their plan and the native residents there vowed to defend their lands by force if necessary.
The rude soldiers intimidated the natives there by grazing their cattle on the prepared farms and forced the Christians to work for them.
Serra and the College of San Fernando vehemently opposed this invasion and relied on the Laws of the Indies, which banned colonial settlements in mission territories.
The intrusion and invasion was suspended by Spain's highest official in Mexico and alternative sites were identified for the settlers.
In 1755 the missionary friars and the natives reclaimed their land. Thereafter, Serra oversaw the construction of a huge church in Jalpan and employed the locals there over a period of seven years.
In 1752, Serra requested the local headquarters of the Spanish Inquisition to appoint an inquisitor to preside over the Sierra Gorda.
He was appointed, himself as inquisitor for the whole region and told to exercise his powers anywhere he did missionary work in Mexico as long as there was no inquisitor there.
Serra reported to the Spanish Inquisition in Mexico City from Jalpan, in September 1752, that there were overwhelming pieces of evidence of sorcery, witchcraft, and devil worship in the Sierra Gorda missions.
Serra returned to the College of San Fernando in 1758, and worked in the college's administrative offices, and as an inquisitor and a missionary for over nine years in the dioceses of Puebla, Mexico, Guadalajara, Valladolid, and Oaxaca.
Serra used to practice self-flagellation, especially at night when he experienced sinful thoughts to purify his spirit.
He also often used to wear sackcloth or coats lined with bristles or broken pieces of wire. He often referred to himself as a "most unworthy priest." and a "sinner".
On one occasion while preaching repentance in Mexico City, he took out his chain and whipped himself on the shoulders.
On other occasions, he would smash his chest with a stone, which would cause him to have severe chest pains. Some of Serra's fellow friars reprimanded him for taking the self-flagellation too far.
California Mission
Spain's King Carlos III of Spain ordered the expulsion of Jesuits throughout the Spanish empire five and therefore, on June 24 1767 the then Mexico's Spanish leader expelled all Jesuits from Mexico. This expulsion created a vacuum that the Franciscan missionaries filled.
Serra was appointed as the president of the missions of Baja California, and Francisco Palóu became his second in command. Before the Jesuit priests were expelled from Baja California, they had developed 13 missions.
In March 1768, Serra and his fellow missionaries arrived at the Loreto mission which had been founded by Jesuits in 1697. Four years later, in 1772 they handed over the missions to Dominican friars.
In 1768, Jose de Galvez, inspector general of Mexico (New Spain), chose Serra to head the missionary team to Upper California.
His aim was to Christianize the Indian populations and get hold of Upper California so as to prevent Russian explorations and any possible claim of the region by North America.
Serra's foot and leg infection got worse and worse to the point fellow friars in the California expedition discouraged him from embarking on this mission. Serra would hear non of it, he said that he will evangelize not only in San Diego but up to Monterey.
Serra founded his first mission in Velicata, Misión San Fernando Rey de España de Velicatá on Pentecost day of May 14 1769. Thereafter, he travelled to San Diego.
Serra and his entourage trekked 900 miles from Loreto to San Diego. They arrived on July 1 1769. After many hardships including hunger and scurvy.
Serra founded Mission San Diego in a simple shelter on Presidio Hill on July 16 1769. He faced many difficulties there including attacks from the Indian warriors in the local Kumeyaay village. Several of Serra's companions were killed.
Time went by without converting any local Indians in San Diego. On April 16 1770, Serra and his remaining companions gave up and continued with their journey to Monterey, where they arrived on May 31 1770.
But, so as not to abandon the whole mission altogether, a few missionaries were left there to try to convert the locals.
On June 3 1770, the Pentecost Sunday, Junipero Serra and the whole expedition founded Mission San Carlos Borromeo in Monterey Bay.
Serra later relocated to Carmel and founded the Mission San Carlos Borromeo de Carmelo in today's Carmel, California, which served as his headquarters.
This is a list of the missions that Junipero Serra founded in California
Presidio of Santa Barbara, California founded on April 21 1782
Mission Santa Clara de Asís, was founded on January 12 1777. Today it is known as the city of Santa Clara, California.
Mission San Luis Obispo de Tolosa, was founded on September 1 1772. Today it is known as the city of San Luis Obispo, California.
Mission San Juan Capistrano, was founded on November 1 1776. Today it is known as San Juan Capistrano
Mission San Gabriel Arcángel, was founded on September 8 1771. Today it is known as San Gabriel, California.
Mission San Francisco de Asís, was founded on June 29 1776. Today it is known as San Francisco, California chain of missions.
Mission San Carlos Borromeo de Carmelo, was founded on June 3 1770. Today it is known as Carmel-by-the-Sea, California.
Mission San Buenaventura, founded on March 31 1782. Today it is a parish in Ventura, California.
Mission San Antonio de Padua, was founded on July 14 1771. Today it is a parish church found near Jolon, California.
Mission Basilica San Diego de Alcalá, was founded on July 16 1769. Today it is known as San Diego, California.
The Franciscan missionaries feared that the Indians who had converted would relapse if they returned to the unconverted community.
They, therefore, required them to live at the mission and help in the farms and mission industries as they continued receiving the religious instructions.
Serra's prudent administration of the missions produced much harvests and this economic success gave him respect from the political class.
Produce from the mission would feed the region and the surplus would be sold to Mexico. In 1779, Serra's administration successfully planted the first sustained vineyard at Mission San Diego de Alcalá and the variety was known as the Mission grape.
This made him be labeled the "Father of California Wine". This wine dominated California wine production until about 1880.
Junipero Serra's Controversy Regarding the Treatment of Native Californians
Serra would grieve when an indigenous American would die. He loved the indigenous community and maintained a fatherly attitude towards the local community.
Although he was very strict in a lot of his doctrinal leanings, he was a very caring person and forgiving and would not mistreat or enslave any Indian.
He would frown upon the Spanish soldiers when they abused and mistreated the native Indians and even protested against Pedro Fages, the governor of Alta California when he refused to reprimand his cruel soldiers.
Serra fought for the rights of Native Americans in Spanish California and sought to protect those that were in the missions.
He received protection and the Indians inside the missions enjoyed rights as human beings under the protection of the Spanish monarchy.
They were referred to as Children of God "Hijos de Dios". However, those Indians outside the missions were not guaranteed those rights.
During the canonization of St Junipero Serra in 2015, the Native Americans objected to his canonization claiming that he looked aside when they were tortured and enslaved at the missions he had founded. This led to several of his statues being destroyed by the descendants of the Native Americans.
Some of the statues that were destroyed are;
Serra's statue in Monterey was decapitated in October 2015.
The Statue of Serra located in southern California's Santa Barbara Mission was decapitated on September 12 2017 and covered with red paint.
The Statue of Serra located at the Mission San Gabriel Arcángel was damaged and painted with red paint on November 3 2017.
The Statue of Serra at San Francisco's Golden Gate Park was destroyed and painted in red on June 19 2020.
Serra's statue at Father Serra Park near Olvera Street was destroyed on June 20 2020.
The Statue of Serra located near the California State Capitol in Sacramento was destroyed on July 4 2020,
The Statue of Serra located in front of Mission San Rafael Arcángel, in San Rafael, California was destroyed on October 12 2020
There were also several establishments that requested to be renamed like the Junipero Serra High School which was renamed Canyon Hills High School on March 9 2021.
St Junipero Serra's Birth
Saint Junipero Serra was born with the name Miguel Jose Serra Ferrer on November 24 1713 in Petra, Mallorca (Majorca), Spain.
St Junipero Serra's Death
St Junipero Serra, having served in California for fourteen years died on August 28 1784, at the age of 70, at Mission San Carlos Borromeo from tuberculosis.
Relics
St Junipero Serra's remains are preserved in the Mission of San Carlos Borromeo, California southeast of the altar with an inscription on the floor of the sanctuary.
The wood of his coffin is put on display next to the sanctuary and other personal items are displayed in the mission museums.
Beatification
St Junipero Serra was beatified on September 25 1988 by Pope John Paul II.
Canonization
There were many concerns about St Junipero Serra's canonization, but still, very many Native Americans in California still maintain their Catholic faith, and most of them supported the canonization.
They know that Serra protected their ancestors and supported their full human rights against the cruel politicians and the military.
St Junipero Serra was canonized on September 23 2015 by Pope Francis at the Basilica of the National Shrine of the Immaculate Conception when the Pope visited the United States for the first time.
St Junipero Serra Feast Day
His feast day is celebrated on July 1 in the United States and on August 28 in the rest of the world.
St Junipero Serra is the Patron Saint of
He is the patron saint of
California
Hispanic Americans
Religious vocations.
Legacy
The Legislature of California recognized the work done by St Junipero Serra and passed a resolution in 1884, making August 29 1884 a legal holiday to celebrate 100 years after his burial.
There is a global lay organization called Serra International, that aims to promote religious vocations in the Catholic Church.
It was named in his honor after it was founded in 1935. It boasts a membership of about 20,000 people worldwide with a presence in 44 countries.
There are many schools, streets, and other features in California that are named after St Junipero Serra.
Features include
Junipero Serra Boulevard in San Francisco
Residential neighborhood of Serramonte in the suburbs of San Francisco
Serra Springs in Los Angeles
Serra Mesa community in San Diego
Junipero Serra Peak of the Santa Lucia Mountains
Junipero Serra Landfill, a solid waste disposal site in Colma
Serra Fault in San Mateo County.
Schools include
Junípero Serra High School in Gardena
Junipero Serra High School in San Mateo,
JSerra Catholic High School in San Juan Capistrano
Serra Catholic High School in McKeesport, Pennsylvania
Today's Catholic Quote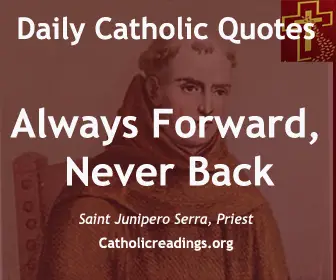 Related Links
Powered By SEO Experts
Follow @ReadingCatholic