Today is
Thursday, March 23, 2023
This is the Saint of the Day list of Saints and Blesseds whose feast day falls on June 2 every year.
👉 Saint Marcellinus and Saint Peter the Exorcist, Martyrs
Saint Erasmus
Saint Nicephorus of Constantinople
Blessed Sadoc of Sandomierz
Blessed Guido of Acqui
Saint Nicholas Peregrinus
Saint Blandina the Slave
Saint Daminh Ninh
Pope Saint Eugene I
Saint Photinus of Lyons
Blessed Demetrios of Philadelphia
Saint Stephen of Sweden
Blessed Joseph Tien
Saint Adalgis of Thierarche
Saint Dorotheus of Rome
Blessed Giovanni de Barthulono
Blessed Giovanni de Barthulono was born to an illustrious Italian family and died of natural causes in 1500 AD in Trapani, Italy. He was a Mercedarian and ransomed 49 Christians who had been enslaved in Africa. Additionally, he was noted for his personal piety and virtue.
Saint Juan de Ortega
St Juan de Ortega died of natural causes in 1150 AD. He was a priest in the diocese of Burgos, Spain, a pilgrim to Palestine, Rome, Italy, and Santiago de Compostela, Spain and later lived as a hermit near Burgos. He helped St Dominic de la Calzada build roads, bridges, hospices, etc. to improve the region and bring services to those in rural areas.
Saint Biblis of Lyons
St Biblis of Lyons, also known as Biblides, and died in 177 AD at Lyons, France. He was tortured to admit to the crime of cannibalism, a slur often ascribed to early Christians. Later, him together with other 45 Christians were martyred in the persecutions of Marcus Aurelius. Additionally, he become one of the Martyrs of Lyons and Vienne.
Saint Alexander of Vienne
St Alexander of Vienne died in 177 AD. He was a physician in Vienne, Gaul and also at adult stage he was converted to Christianity. He was a friend of St Pothinus and was arrested for his faith during the persecutions of Emperor Marcus Aurelius, he was tortured and executed. One of the Martyrs of Lyons and Vienne.
Saint Dictinus of Astorga
St Dictinus of Astorga died in 420 AD. He was a supporter of the Priscillianist heresy, he was brought back to orthodox Christianity by Saint Ambrose, renouncing his errors at the Council of Toledo in 400 AD. He later become a bishop of Astorga, Spain.
Saint Bodfan of Wales
St Bodfan of Wales, also known as he was a Bobouan or Boduan, was a patronage of seventh century monk at Beaumaris, Wales. He later become a paronage of Abergwyngregyn, Wales, Abern or Wales
Saint Armin of Egypt
St Armin of Egypt died in 304 AD and was menerated in Egypt and Ethiopia, but no details of him have survived.
Saint Ada of Ethiopia
St Ada of Ethiopia died as a martyr In Ethopia..
Saint Barbarinus
St Barbarinus, also known as Barbarunus, was a priest and also martyr.
Saint Honorata
St Honorata, also known as Honoratus, was a martyr.
Saint Evasius
St Evasius was a martyr.
Saint Humatus
St Humatus died as a martyr.
Saint Rogate
St Rogate died as a martyr.
Martyrs of Lyons and Vienne
Alexander of Vienne
Attalus of Pergamos
Biblis of Lyons
Blandina the Slave
Cominus of Lugdunum
Epagathus of Lugdunum
Maturus the Novice
Photinus of Lyons
Ponticus of Lugdunum
Sanctius of Vienne
Vettius of Lugdunum
Martyrs of Sandomierz
Zadok
Andrea, chaplain
James, novice master
Malachi, convent preacher
Paul, vicar
Peter, guardian of the garden
Simone, penitentiary
Friars
Philip
Matthew
Luke
John
Elia
Clemente
Bartholomew
Barnabas
Abel
Deacons
Giuseppe,
Stefano
Joachim,
Sub-deacons
Clerics
Aaron
Benedict
David
Dominico
Mattia
Mauro
Michele
Onofrio
Timothy
Professed students
Christopher
Donato
Feliciano
Gervasio
Gordian
John
Mark
Medardo
Valentino
Novices
Daniele
Isaiah
Macario
Raffaele
Tobia
Lay brothers
Thomas, organist
Cyril, tailor
Jeremiah, shoemaker
Other Saints Celebrated Today
Madonna of the Tears
Martyrs of Rome
Conall of Drumcliff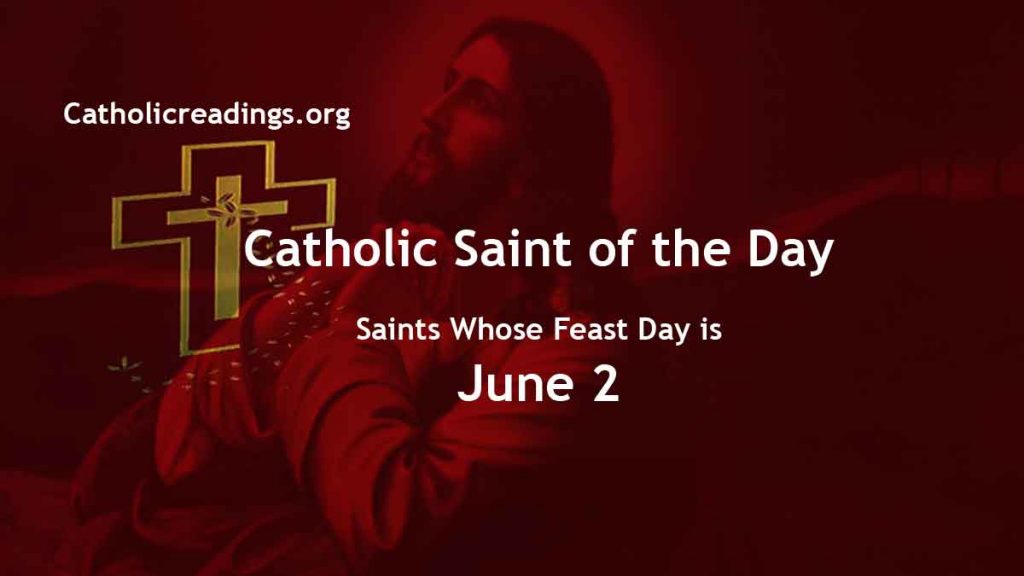 Powered By SEO Experts
Follow @ReadingCatholic