Today is
Wednesday, May 31, 2023
This is the Saint of the Day list of Saints and Blesseds whose feast day falls on June 7 every year.
Saint Robert of Newminster
Saint Anthony Mary Gianelli
Saint Deochar
Blessed Anne of Saint Bartholomew
Saint Gotteschalk
Saint Colman of Dromore
Saint Meriadoc of Vannes
Saint Wallabonsus of Cordoba
Saint Jeremiah of Cordoba
Saint Landulf of Yariglia
Blessed Basilissa Fernandez
Saint Wistremundus of Cordoba
Saint Sabinian of Cordoba
Blessed Demosthenes Ranzi
Saint Habentius of Cordoba
Saint Meriadoc II of Vannes
Saint Peter of Cordoba
Saint Aventinus of Larboust
St Aventinus of Larboust was born in Bagnères in the Pyrenees mountains in France and died in 732 AD in the valley of Larboust. He was an hermit in the Larboust valley in the Pyrenees, part of the border region between modern France and Spain. Later, he was martyred by Saracens.
Saint Vulflagius of Abbeville
St Vulflagius of Abbeville was also known as Vulfiafius, Vulphy or Wulflagius. He was a priest who lived as a hermit near Abbeville, France and was greatly venerated in Montreuil-sur-Mer, France. He later died of natural causes in 643 AD near Abbeville, France.
Saint Lycarion of Egypt
St Lycarion of Egypt, also known as Licarion, was born in Egypt and later beheaded with a sword in Egypt but the exact date and location are unknown.
Saint Potamiaena of Alexandria the Younger
St Potamiaena of Alexandria the Younger died in 304 AD in Alexandria, Egypt. He was a young Christian girl martyred in the persecutions of Diocletian.
Saint Justus of Condat
St Justus of Condat was born in Condat, France and canonized on 9 December 1903 by Pope Pius X (cultus confirmation). He was a 6th-century Benedictine monk in France.
Saint Odo of Massay
St Odo of Massay died of natural causes in 967 AD. He Benedictine monk and also an abbot at Massay the last 32 years of his life.
Saint Quirinus of Cluny
St Quirinus of Cluny was a martyr.
Saint Sergius of Cluny
St Sergius of Cluny was a martyr.
Martyrs of Africa
Martyrs of Africa was a group of seven Christians who were martyred together. They died in unknown date and even the location is still unknown.
Their names are;
Victurus
Spisinna
Privata
Januaria
Guirillus
Evasius
Donata
Other Saints Celebrated Today
Valentine of Tongeren
Paul I of Constantinople
Maria Teresa Soubiran de La Louvière
Herkumbert of Minden
Daniel of Skete the Younger
Daniel of Skete the Elder
Candidus of Tongeren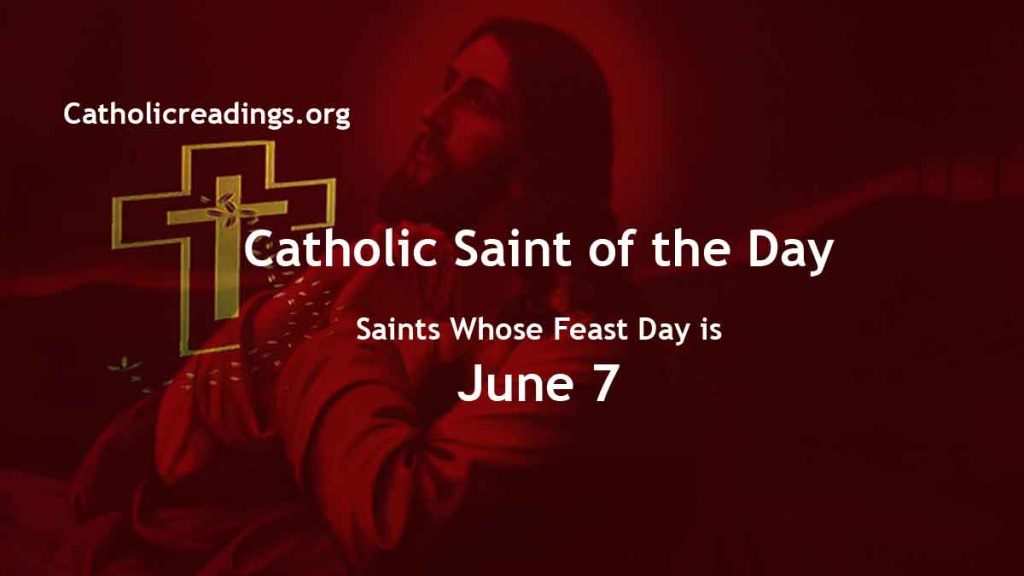 Powered By SEO Experts
Follow @ReadingCatholic