This is the Saint of the Day list of Saints and Blesseds whose feast day falls on November 23 every year.
👉 Saint Clement I, Pope and Martyr,
👉 Blessed Miguel Agustín Pro, Priest and Martyr
Blessed Enrichetta Alfieri
Blessed Margaret of Savoy
Saint Felicity of Rome
Saint Trudo of Hesbaye
Saint Clement of Metz
Saint Amphilocus of Iconium
Saint Loëvan of Brittany
Saint Alexander Newski
Saint Cecilia Yu Sosa
Saint Falitrus of Chabris
Blessed Detlev of Ratzeburg
Blessed Felícitas Cendoya Araquistain
Saint Gregory of Girgenti
Saint Adalbert of Casauria
Saint Mustiola of Chiusi
Saint Paulinus of Whitland
St Paulinus of Whitland also known as Paulinus of Wales or Paulhen or Pewlin or Polin. He was a spiritual student of Saint Illtyd and also a monk. He founded the monastery of Whitland in Wales and served as its abbot. He was also a spritual teacher of Saint David of Wales and Saint Teilo of Llandaff. He later died in 505 AD.
Saint Rachildis of Saint-Gall
St Rachildis of Saint-Gall also known as Richildis . She died of natural causes in 946 AD. She was a benedictine anchoress who lived walled up in a cell near Saint Wiborada, under obedience to the abbot of Saint Gall in Switzerland.
Saint Sisinius of Cyzicus
St Sisinius of Cyzicus also known as Sisinnio or Sisinio. HE was a bishop and was tortured and martyred in the persecutions of Diocletian. He died in the early 4th century when he was stabbed with a sword in Cyzicus in the Hellespont.
Saint Lucretia of Mérida
St Lucretia of Mérida also known as Lucrezia .She died in 306 AD in Mérida, Spain as a consecrated virgin. She was Martyred in a period of imperial Roman persecution.
Saint Wilfetrudis of Nivelles
St Wilfetrudis of Nivelles died in 670 AD. She was the niece of Saint Gertrude of Nivelles and abbess of the abbey in Nivelles, Belgium.
Saint Paternian of Fano
St Paternian of Fano died in 343 AD. He fled into the mountains for a period to escape the persecutions of Diocletian. He was a bishop of Fano, Italy.
Saint Severin of Paris
St Severin of Paris also known as Severino or Severinus. He was a sixth-century hermit who lived in a cell in Paris, France.
Blessed Guy of Casauria
Blessed Guy of Casauria died in 1045 AD. He was a benedictine monk at Farf and also Abbot of Casauria, Italy.
Saint Faustina of Alexandria
Saint Faustina of Alexandria died in Alexandria, Egypt as a martyr.
Saint Augusta of Alexandria
St Augusta of Alexandria died in Alexandria, Egypt as a martyr.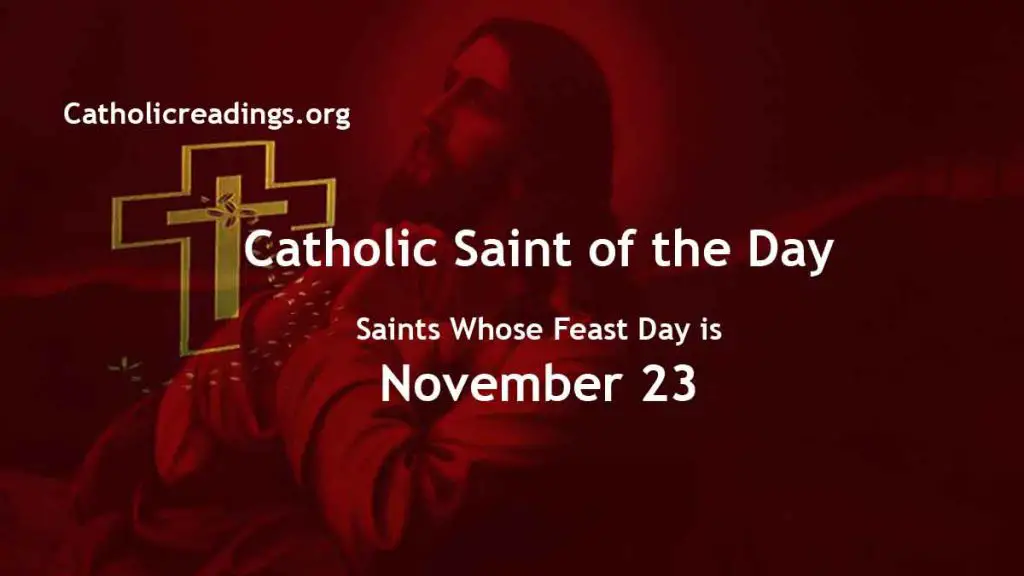 Powered By SEO Experts