Today is
Tuesday, June 6, 2023
This is the Saint of the Day list of Saints and Blesseds whose feast day falls on November 8 every year.
👉 Saint Elizabeth of the Trinity
Blessed John Duns Scotus
Saint Godfrey of Amiens
Blessed Maria Crucified Satellico
Saint Willehad of Bremen
Pope Saint Adeodatus I
Saint Cybi of Caenarvon
Saint Gervadius
Blessed Manuel Sanz Domínguez
Saint Tysilio of Wales
Saint Phaolô Nguyen Ngân
Saint Martinô Ta Ðuc Thinh
Blessed Maximino Serrano Sáiz
Saint John Baptist Con
Saint Gregory of Einsiedeln
Saint Giuse Nguyen Ðình Nghi
Saint Clair
Saint Martinô Tho
Four Crowned Martyrs
Saint Castorus
Saint Claudius
Saint Nicostratus
Saint Simpronian
Saint Wiomad of Trèves
St. Wiomad of Treves was also known as Weomadus or Wiomagus. He was a benedictine monk at St. Maximinus at Trèves (modern Trier, Germany). He was an abbot of the monastery of Mettlach in Germany. He was a bishop of Trèves in 770AD and was part of the court of Charlemagne. He died in 790AD.
Saint Moroc of Scotland
St. Moroc of Scotland was Scottish and an abbot at Dunkeld in Scotland. He was a bishop of Dunblane in Scotland. Several churches are named after him and he was venerated with a solemn office in the old Scottish rite. He died in the 9th century due to natural causes.
Saint Maurus of Verdun
St. Maurus of Verdun was a bishop of Verdun in Gaul ( modern France) from 353 to 383. He died in 383 due to natural causes and his relics were enshrined in the 9th century. Miracles are reported to have happened at his tomb.
Saint Drouet of Auxerre
St. Drouet of Auxerre was a bishop of Auxerre in France. He died in 532 due to natural causes.
All Saints of the Diocese of Evry
A regional memorial of all the saints and blesseds of the calendar who have a connection to the Diocese of Evry-Corbeil-Essonnes, France.
Saint Wulfran of Sens, born in Milly-la-Forêt
Saint William of Bourges, son of Count Baldwin IV of Corbeil
Saint William of Aebelholt, pastor of Brunoy
Saint Spire of Bayeux, whose relics are in Corbeil in the cathedral that bears his name
Saint Germain of Paris
Saint Eloi, who lived in Chilly-Mazarin
Saint Denis of Paris, evangelizer of part of Essonne and revered ni Longpont-sur-Orge
Saint Corbinian, born in Saint-Germain-lès-Arpajon
Our Lady of Good Guard, patron saint of the diocese, venerated in Longpont-sur-Orge, France
Blessed René Le Bris, pastor of Bris-sous-Forges
Blessed Pierre Bonse, pastor of Massy
Blessed Nicolas Gaudreau, pastor of Vert-le-Petit
Blessed Nativelle, vicar of Longjumeau
Blessed Isabella of France, founded the Longchamp monastery
All Deceased Dominicans
All Saints of Wales
Catholic Saint Feast Days in November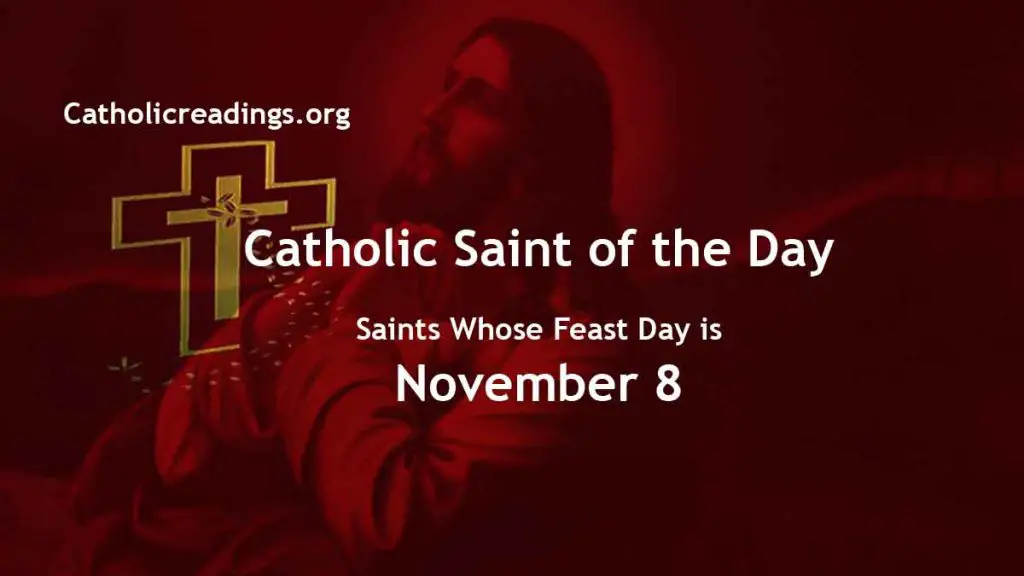 Powered By SEO Experts
Follow @ReadingCatholic