Today is
Monday, October 2, 2023
Saint Willehad of Bremen Biography
Saint Willehad of Bremen Profile. Born: 8th Century in the United Kingdom, Europe. Worked in Italy, Germany. Died: 789 AD in Bremen, Germany. Feast Day is celebrated on November 8.
The Memorial of Saint Willehad of Bremen – Saint of the Day

Saint Willehad of Bremen Biography, Feast Day, Date of Birth, Country of Birth, Profession, Place of Work, Date of Death, Place of Death, Beatification Date, Canonization Date

Date of Birth
8th Century
Country of Birth
The United Kingdom in Europe
Matrimony/Holy Orders
Saints who were Bishops
Profession
Missionary
Place of Work
Italy, Germany
Date of Death
789 AD
Place of Death
Bremen, Germany
Feast Day
November 8
Beatification
Beatified by N/A
Canonization
Canonized by Pre-Congregation
Patron Saint of
Saxony
Saint Willehad of Bremen Biography
St. Willehad of Bremen was educated at York, England and then became a Benedictine monk, later a Priest. He was a close ally of Blessed Alcuin. Willehad evangelist throughout western Europe and also worked in Frisia in 766, preaching in Dokkum, Overyssel, Humsterland, and Utrecht, but was driven out by violent pagans.
He was then sent by Charlemagne to evangelize the Saxons in 780 AD but was expelled in 782 following a revolt by King Widukind against Charlemagne's rule. Willehad went on a pilgrim to Rome, Italy. He copied manuscripts at the abbey of Echternach.
Following Charlemagne's re-conquest of the Saxons Willehad became bishop of Bremen in 787 a seat he held until his death. He built the cathedral there and many churches throughout his see.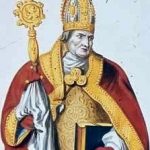 Follow @ReadingCatholic