Today is
Thursday, June 8, 2023
Miraculous Prayer to St Philomena
👉 We implore You, O Lord, 
👉 to pardon us our sins 
👉 by the intercession of St Philomena, virgin and martyr, 
👉 who was always pleasing in Your sight 
👉 by her eminent chastity and by the profession of every virtue. Amen.
👉 Illustrious virgin and martyr, St Philomena, 
👉 behold me prostrate before the throne 
👉 whereupon it has pleased the Most Holy Trinity to place you. 
👉 Full of confidence in your protection, 
👉 I entreat you to intercede for me with God,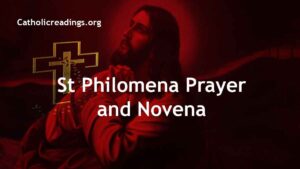 👉 from the heights of Heaven deign 
👉 to cast a glance upon your humble client! 
👉 Spouse of Christ, sustain me in suffering, 
👉 fortify me in temptation, protect me in the dangers surrounding me, 
👉 obtain for me the graces necessary to me, and in particular
(Here specify your petition).
👉 Above all, assist me at the hour of my death. 
👉 St Philomena, powerful with God, pray for us. Amen.
👉 O God, Most Holy Trinity, we thank You for the graces 
👉 That You bestowed upon the Blessed Virgin Mary, 
👉 and upon Your handmaid Philomena, through whose intercession we implore Your Mercy. Amen.
Powered By SEO Experts
Follow @ReadingCatholic