Today is
Tuesday, May 30, 2023
Memorare: Remember, O most gracious Virgin Mary that never was it known that anyone who fled to Your protection, implored Your help, or sought Your intercession was left unaided.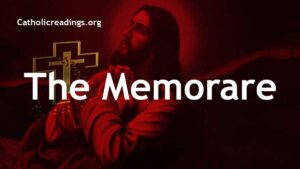 Inspired with this confidence, we fly to you, O Virgin of virgins, our Mother.
To You we come; before You we stand, sinful and sorrowful.
O Mother of the Word Incarnate, despise not our petitions, but in Your mercy, hear and answer us. Amen.
Short History of The Memorare
The Memorare is a prayer prayed by the Catholic faithful seeking the intercession of the Blessed Virgin Mary. It is adapted from a longer 15th-century prayer titled "Ad sanctitatis tuae pedes, dulcissima Virgo Maria"
St Francis de Sales said that he sought the intercessions of the Blessed Virgin Mary who saved him from falling into despair or heresy. He always fell on his knees and prayed the Memorare before the statue of Our Lady of Good Deliverance (the Black Madonna) at the church of Saint-Étienne-des-Grès, Paris.
The Memorare prayer was popularized by Fr. Claude Bernard in the 17th century. He promoted the devotion to the Blessed Virgin Mary among the poor and condemned prisoners under the title Consolatrix Afflictorum (Comforter of the Afflicted).
Powered By SEO Experts
Follow @ReadingCatholic