Today is
Friday, June 2, 2023
Bible Verse of the Day – Catholic Readings For Twenty-third Sunday in Ordinary Time Year A, Wednesday of the Nineteenth Week in Ordinary Time
Jesus said to his disciples:
15 "If your brother sins against you, go and tell him his fault between you and him alone. If he listens to you, you have won over your brother.
16 If he does not listen, take one or two others along with you, so that every fact may be established on the testimony of two or three witnesses.
17 If he refuses to listen to them, tell the Church. If he refuses to listen even to the Church, then treat him as you would a Gentile or a tax collector.
20 For where two or three are gathered together in my name, there am I in the midst of them."

Matthew 18:15-20
Catholic Readings For Today
Twenty-third Sunday in Ordinary Time, Year A
Wednesday of the Nineteenth Week in Ordinary Time Year 1
Wednesday of the Nineteenth Week in Ordinary Time Year 2
Today's Bible Verse of the Day Reflections
We are lucky today to be given a conflict resolution guideline by our Lord Jesus Christ. This guideline tells us of the best route to take when we want to correct our brothers and sisters who are on the wrong.
When you see that your brother has done something wrong, Jesus advises us to first approach the person alone. This one-on-one interaction is very effective and does not leave emotional bruises when the matter is resolved. Also, there are some mistakes we do without knowing if they are wrong or right. These ones are dealt with by just using this approach.
When you are unable to resolve the problem alone, Jesus advises us to seek the help of another friend or two. It is universally accepted that two minds are better than one. Therefore when you join ideas and solutions together, the problem will be easier to solve and Jesus reminds us that when two or three are gathered together in His Name, He will be in their midst.
When the joint effort is fruitless, the last resort should be the church. This is in the context that both of you commune in the same church. The combination of the prayers and advice from the pastor and the laity will definitely help resolve the issue. Then, if the brother does not change his stance, Jesus tells us that that person should be done away with spiritually because he has defied the voice of God and is not fit then to dine with the rest.
Jesus has given us powers to solve our problems using agreement and consensus. He says that, in His Name, if we agree on something, it is bound in Heaven too. So when we help our brothers to solve problems here on earth, that solution is recognised also in Heaven.
Let us, therefore, pray together to God for our needs and they shall be granted to us as Jesus says that if "two of you agree on earth about anything for which they are to pray, it shall be granted to them by my heavenly Father."
Prayer: Lord Jesus Christ, thank you for promising to be with us when we gather together in Your Name. We ask You to continue being among us especially in the world today where Your flock is resulting in other means of conflict resolution instead of the one You have prescribed. Lord Hear Us. Amen.
Bible Verse of the Day in Pictures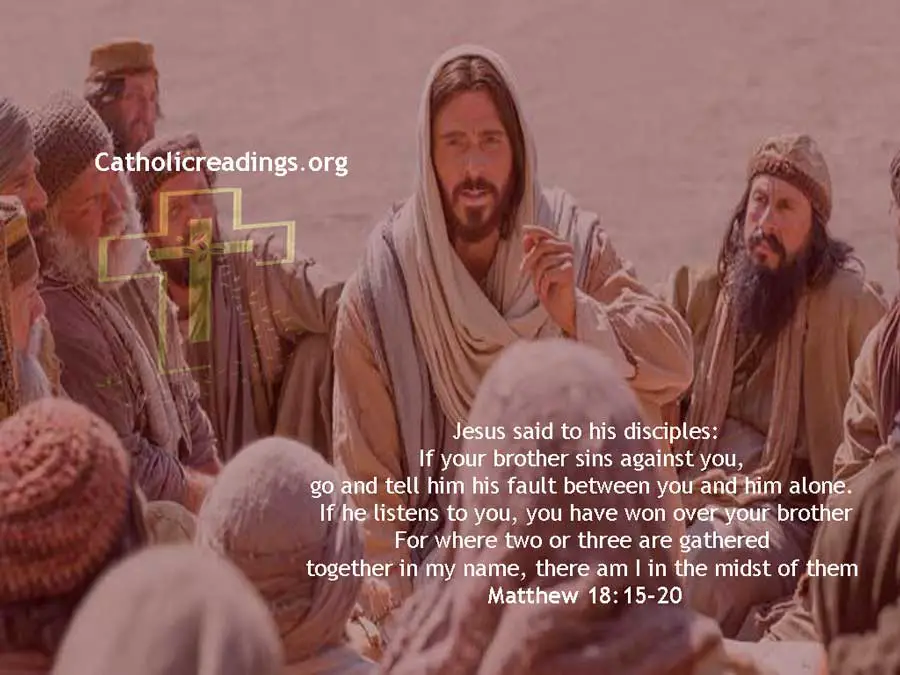 Powered By SEO Experts
Follow @ReadingCatholic