Today is
Sunday, September 24, 2023
June 26 2023: Bible Verse of the Day – Eighth Sunday in Ordinary Time Year C, Monday of the Twelfth Week in Ordinary Time, Friday of the Twenty-third Week in Ordinary Time – Remove the Plank in Your Own Eye First – Luke 6:39-42 and Matthew 7:1-5
How can you say to your brother, 'Brother, let me remove that splinter in your eye,' when you do not even notice the wooden beam in your own eye?
You hypocrite! Remove the plank from your eye first; then you will see clearly to remove the splinter in your brother's eye."

Luke 6:39-42 and Matthew 7:1-5
Catholic Readings For Today
Eighth Sunday in Ordinary Time, Year C
Monday of the Twelfth Week in Ordinary Time, Year 1
Monday of the Twelfth Week in Ordinary Time, Year 2
Friday of the Twenty-third Week in Ordinary Time, Year 1
Friday of the Twenty-third Week in Ordinary Time, Year 2
Bible Verse of the Day for June 26 2023 Reflections
The lesson we learn today is about the sin of pride. Pride makes us see the minor faults in others instead of seeing the serious faults that we obviously have.
Pride blinds us completely and prevents us from having an honest self-reflection and an examination of our conscience. Pride hides the truth from us. It covers us with a false mask such that we are unable to see ourselves in the light of truth, therefore, preventing us from seeing the log in our own eye.
This ugly sin of pride makes us focus on the tiny and insignificant faults of our neighbours and friends. These tiny faults are the splinters in our brothers' eyes.
Jesus is keen to teach us this lesson because most of us tend to trivialize the very serious sins that we have and point out the small sins of others and make them seem more serious than they are.
Jesus is inviting us to do a thorough introspection of ourselves and realize when, where and how pride starts to influence us. He wants us to change so that, as we undertake our purpose on earth, we don't become blind guides who may lead others into a pit.
Therefore, if you realize that you are judgemental and unfairly critical of those around you and especially those who are striving for holiness, you need to change for the better.
Prayer: Dear Lord, I pray for humility and meekness. Help me to free myself of all manner of pride and being judgmental. Help me to see and judge others in the way You want me to see them. Amen.
Bible Verse of the Day in Pictures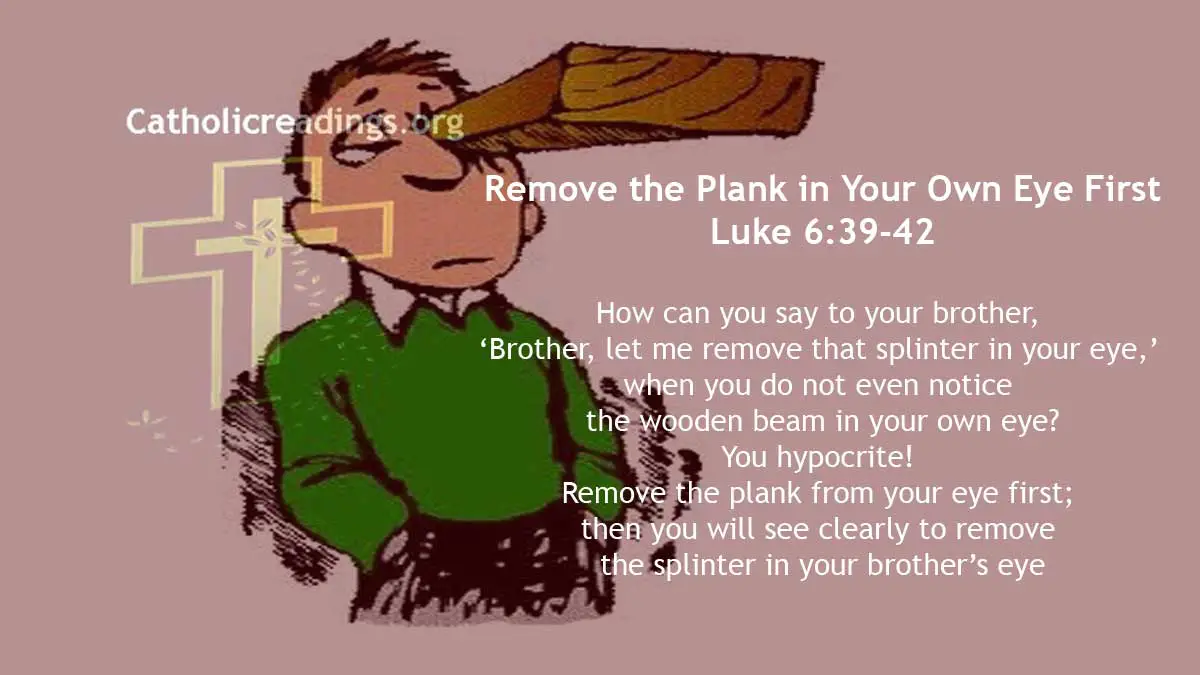 Related Links
Powered By SEO Experts
Follow @ReadingCatholic