Today is
Saturday, March 25, 2023
Dear Lord Jesus Christ, we approach you today with sincere, affectionate, and tranquil hearts. We pray for the Holy Church across the world, that it may endure and prevail over the influences of the underworld.
Oh Lord, as You have proclaimed, the harvest is plentiful but the workers are few. Please aid us in guiding ourselves and our offspring to pursue the vocation of priesthood. May Your summons motivate us to encourage our children to embrace their calling to serve You through Holy Orders.
May we not be deterred from serving You and Your Holy Church by the corrupt influences of this malevolent world.
Please bless, direct, defend, shield, and govern our Pope, Bishops, Priests, and religious communities so that they may withstand the trials and rejection brought about by the wicked ones among us.
We implore that Your Holy Church remains steadfast because You are the unshakable cornerstone. We offer this prayer in the Name of The Father, The Son, and The Holy Spirit. Amen.
Prayer for the Catholic Church
Dear Lord my God, I pray for the Catholic Church around the world. The church is currently facing a great deal of criticism and suffering, from both Your followers and those who do not believe in You.
Merciful Lord, we acknowledge that as Catholic believers, we are sinners who are vulnerable to succumbing to the devil's snares.
Please assist us in recognizing and avoiding these wicked traps that lead us to sin and consequently bring shame to Your Holy and Apostolic Church.
Furthermore, please grant us the resilience to neither yield to, nor be crushed by, groundless allegations from individuals who are determined to weaken the Catholic Church.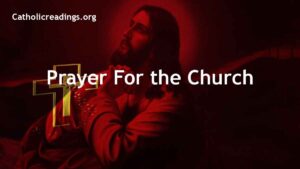 Empower us with the fortitude to endure the hostility that is being directed at the traditions of the Catholic Church.
We also beseech You to bestow Your grace upon our clergy, who are bearing the brunt of the persecution faced by the Catholic Church.
Send forth Your Holy Spirit to provide them with unwavering strength and bravery to persist in proclaiming the message that the Kingdom of God is near. We offer this supplication through Jesus Christ, our Lord, and Savior. Amen.
Prayer for the Persecuted Church
Dear Lord Jesus Christ, we pray for the persecuted Church around the world. Our religious leaders and laypeople are encountering numerous adversities and obstacles that arise from their devotion to You.
Lord God, most people have forgotten why you created them, and that is to know, love, serve, praise, and glorify you and only you alone. When the clergy and laity preach about this they get persecuted and hated.
Jesus Christ, when You sent Your disciples out to proclaim the Good News to the world, You made them aware that they will face rejection and persecution from the very people they preach to and pray for.
We, therefore, acknowledge that these persecutions are part of our ministry which you left for us.
We, therefore, pray that make these persecutions directed to Your Church to be a yoke that is good to bare and a burden that is light.
May we embrace these challenges with a big smile just like your apostles did because we know after we accomplish our work we will receive our wages from you on the last day. Amen.
Powered By SEO Experts
Follow @ReadingCatholic