Today is
Wednesday, March 29, 2023
It is good to say a school prayer for our children because they are a very important part of our families and society. We must protect them with prayers and other Godly ways from the prowling devil who is always seeking ways to harm and mislead them.
Children can get harmed anywhere but it is at school that they are exposed to the greatest harm and bad influence.
We should therefore pray for them to Our Heavenly Father to watch, guard, guide, protect and govern them while at school.
We should also teach them how to pray so that they can pray for themselves and for others too without supervision.
Below are some great prayers that can be used to pray for the school, the children, the teaching and the subordinate staff.
Morning Prayer for School
Dear Lord, we dedicate our school to Your mighty hands. We also dedicate to You all the children who study here, and all the teachers and subordinate staff who work here.
Lord God, we pray that You make our school a great place to form, inform, transform and reform our children so that they grow physically, socially, and mentally. Make our school a place where they feel loved, where they love and learn to love.
Make our school to be a place where every person is respected, feels respected, and highly valued. We pray all there believing and trusting in the Holy Name of Jesus Christ our Lord. Amen.
Prayer for Children in School
Dear Loving God, we pray for our children in school. We thank You for granting our children immeasurable skills, talents, abilities, and spiritual gifts they need to serve You in their lives.
Dear Lord, help them to utilize that knowledge that they continue gaining here to serve You first and others second.
Lord, we pray that Your will be done in their lives. May each of them discover their skills, talents, and passions and work hard to learn how to grow them in order to serve You well in the future according to Your Holy Will.
Dear Father, make available to them trusted teachers and advisers who will teach, train, lead, and mentor them.
When they turn to You for help, love, strength, and protection, kindly have mercy and hear them. Help them to learn and grow and eventually lead fruitful and prosperous lives. Amen.
Back to School Prayer for Students
Heavenly Father, We are so thankful for another academic year that is before us. We pray for Your blessing and guidance as we embark on this journey of learning and growth.
Refresh our hearts and minds with a spirit of enthusiasm and excitement for all the new knowledge and experiences that will come our way.
Grant us the wisdom to recognize and take advantage of every opportunity You give us and the strength to overcome any challenge we may face.
Protect us from harmful influences and help us stay focused on our studies. Help us find the resources we need along the way.
We turn to You in prayer, trusting that You will be with us each day as we go back to school. Amen.
Short Prayer for School
Heavenly Father, guide us here at school as we learn and grow in knowledge. Help us to use what we learn for the betterment of ourselves, our peers, and our communities. Amen.
Prayer for School Assembly
Almighty God, we come before You today in gratitude for the opportunity to gather together as a school community. We thank You for the blessings of education and for the privilege to learn and grow together.
Guide us, Lord, in the spirit of respect, kindness, and cooperation. May our days at this school be marked by dedication and excellence. Help us to use our knowledge and skills to make positive contributions to our world and to serve each other in love.
We humbly ask that You would protect and bless our school, its teachers, and its students. In Your mighty name, we pray, Amen.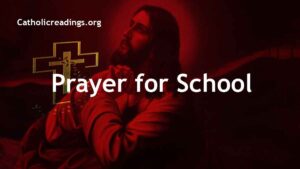 Back to School Prayer for Teachers
Dear God, We thank You for this new school year and all that it brings.
Bless our teachers with strength, patience, and understanding as they guide students through their studies.
May they be filled with grace to nurture our students' minds, hearts, and spirits, and inspire them to reach their fullest potential.
Help them keep their focus on the blessings of knowledge and understanding, even during challenging times. Amen.
Daily Prayer for School
Dear Lord, We thank you for this new school day and everything it has to offer. We ask that you give us the strength and courage to do our daily tasks with a positive attitude and an eagerness to learn.
Guide us through each lesson and help us understand complex topics that may come our way by giving us the grace we need to remember and retain the knowledge.
As we come together from different backgrounds, please help us to respect each other's differences and work as a team towards academic success.
Give us patience and grace when we face challenges in class and equip us with the tools needed to find solutions. Let us be united no matter the situation and never fear being wrong in our answers.
We thank you. Amen.
Prayer for School Management
Heavenly Father, We thank you for this school and the opportunity to serve its students and faculty. We humbly ask for your guidance and protection as we manage the school.
Help us to foster a safe and nurturing learning environment. Lead us with wise decisions, so that our actions may promote the school's educational mission.
Give us the courage and strength to be effective in all that we do. May we use our time and resources to the best of our ability and honor your will in every decision that we make. In Jesus' name, Amen.
Prayer for New School Year
Dear Father, We come before you asking for your divine guidance and blessings as we embark on a brand new school year.
We ask that You would keep us safe and protected throughout the days ahead. Give us strength and courage to face new challenges and push through difficult times.
Help us to focus on our studies and stay motivated in our pursuits of knowledge. Let us always remember why we are here, to learn and grow and become the best versions of ourselves.
Bless each of us with wisdom, knowledge, and understanding that will help us excel in this upcoming school year.
Lead us with Your guiding grace and keep us following the path You have set forth. Amen.
Lunch Prayer for School
Heavenly Father, We gather together today as a school in gratitude for our meal.
Thank you for the food that we are about to eat and the nourishment it will bring to our bodies.
Help us to be mindful as we enjoy this meal so that we may be happy and healthy.
Grant us the strength and wisdom to learn and grow.
Bless our teachers and friends, and help us be kind to one another. Amen.
Thanksgiving Prayer for School
Heavenly Father, We thank You for all the blessings You have bestowed upon us. We humbly ask that You continue to protect, guide, and provide for us.
We are grateful for our teachers and staff who work hard day in and out to give us knowledge and guidance. Strengthen their faith and fill them with energy and joy in helping us learn and grow.
We give You thanks for loyalty, kindness, and friendship. Let these things be expressed more and more in our school so that we may become a more united and harmonious community.
We thank You for Your wonderful love and unfailing care. Amen.
Prayer for School Principal
Almighty God, We lift up our school principal in prayer and thank You for the work he/she does.
We pray for wisdom and the guidance of Your Spirit to help our principal make wise decisions that will benefit all the students and faculty.
Bless our principal with patience and understanding as he/she meets the challenges of each day. Help him/her to lead with kindness, fairness, and compassion. Show him/her the way to lead our school with integrity and justice.
Lord, we pray that Your love and grace will be made evident in all aspects of our principal's service. May he/she continue to be an example of positivity and joy. We ask these things in Jesus' name. Amen.
Special Prayer for School
Dear God, We come before You today asking for Your protection and guidance over our school. We pray for the children, teachers, administrators, and all those involved in the care and education of our students.
Help us to create a safe, nurturing, and stimulating environment where children can learn, grow and reach their full potential.
Give us the wisdom and strength to strive for excellence in all that we do. Guide us to make wise decisions and help us work together to achieve success.
Keep our minds open to new ideas, and inspire each one of us with Your love and grace. As we embark on this new year of learning, we thank You for the opportunity to nurture the minds and hearts of our students. Amen.
Powered By SEO Experts
Follow @ReadingCatholic