It is good to say a school prayer for our children because they are a very important part of our families and society. We must protect them with prayers and other Godly ways from the prowling devil who is always seeking ways to harm and mislead them.
The children can get harmed anywhere but it is at school that they are exposed to the greatest harm and bad influence. We should therefore pray for them to Our Heavenly Father to watch, guard, guide, protect and govern them while at school.
We should also teach them how to pray so that they can pray for themselves and for others too without supervision.
Below are some great prayers that can be used to pray for the school, the children, the teaching and subordinate staff.
Morning Prayer for School
Dear Lord, we dedicate our school to Your mighty hands. We also dedicate to You all the children who study here, and all the teachers and subordinate staff who work here.
Lord God, we pray that You make our school a great place to form, inform, transform and reform our children so that they grow physically, socially, and mentally. Make our school a place where they feel loved, where they love and learn to love.
Make our school to be a place where every person is respected, feels respected, and highly valued. We pray all there believing and trusting in the Holy Name of Jesus Christ our Lord. Amen.
Prayer for Children in School
Dear Loving God, we pray for our children in school. We thank You for granting our children immeasurable skills, talents, abilities, and spiritual gifts that they need in order to serve You in their lives.
Dear Lord, help them to utilize that knowledge that they continue gaining here to serve You first and others second.
Lord, we pray that Your will be done in their lives. May each of them discover their skills, talents, and passions and work hard to learn how to grow them in order to serve You well in the future according to Your Holy Will.
Dear Father, make available to them trusted teachers and advisers who will teach, train, lead, and mentor them. When they turn to You for help, love, strength and protection, kindly have mercy and hear them. Help them to learn and grow and eventually lead fruitful and prosperous lives. Amen.
Back to School Prayer for Students
Short Prayer for School
Prayer for School Assembly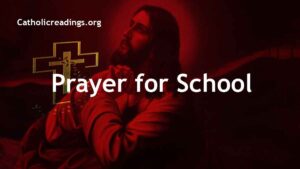 Back to School Prayer for Teachers
Daily Prayer for School
Prayer for School Management
Prayer for New School Year
Lunch Prayer for School
Thanksgiving Prayer for School
Prayer for Principal of School
Special Prayer for School
Powered By SEO Experts
Follow @ReadingCatholic